2023 Cost of Living Adjustments Announced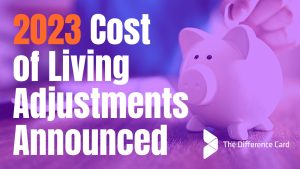 The IRS has released its 2023 cost of living adjustments – which can impact certain benefit accounts, retirement plans and other programs.  
Highlights of changes coming in 2023:
FSA Contributions: Contributions to a healthcare flexible spending account have increased $200 to $3,050- up from $2,850 in 2022.
FSA Carryover Amount: If the employer allows for carry-over, FSA participants can now carry over $610 – up $40 from $570 in 2022.
Transit & Parking Benefits: The monthly contribution limit on parking and transit benefits will increase to $300 – up from $280 in 2022.
Adoption Assistance Program: The maximum exclusion for qualified adoption expenses under the adoption assistance program is now $15,950- up from $14,890 in 2022.
Taxable Years Beginning in 2023
Taxable Years Beginning in 2022
Limit on voluntary employee salary reduction contributions to a health flexible spending arrangement (Section 3.16 of Rev. Proc. 2021-45)
$3,050
$2,850
Maximum carryover amount of unused FSA amounts (Section 3.16 of Rev. Proc.2021-45
$610
$570
Monthly limit on fringe benefit exclusion for transit and parking (Section 3.17 of Rev. Proc. 2021-45)
$300
$280
Maximum exclusion for qualified adoption expenses furnished pursuant to an adoption assistance program (Section 3.19 of Rev. Proc. 2021-45)
$15,950
$14,890
Maximum reimbursement from a qualified small employer health reimbursement arrangement (QSEHRA) (Section 3.62 of Rev. Proc. 2022-38)
 $5,850
($11,800 for family coverage)
$5,450
($11,500 for family coverage)
The above chart does not include all the provisions under the cost-of-living adjustment. 
For a full break down of the changes made by the IRS for benefit account contributions, please visit: