Tips to reduce your healthcare costs:
Before you go to a doctor, check to make sure they are an In-Network Provider. In-Network Providers will cost you less. Typically you can check this on your health insurance website or by calling your doctor.
When you go to a healthcare provider, always present your health insurance card first.
When you get a bill from your doctor, don't pay it right away. Wait until you get a statement from your insurance company breaking down how much you owe. This statement is sometimes called an Explanation of Benefits (EOB). Sometimes, you will then get a second bill from your provider that has been reduced.
Match the bill from your provider to your explanation of benefits. Only pay the amount your health insurance company says you owe.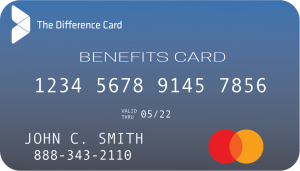 Here is where The Difference Card comes in:
Your employer is helping you offset the cost of these medical expenses. Check your Difference Card Summary of Benefits Chart to see what services your employer is funding. You can find this by logging in to your online account and navigating to the forms section.
If the type of expense listed in your Explanation of Benefits is covered, snap a picture of your EOB and submit to The Difference Card. We will process your claim and send you a payment!
We pay 99% of our claims in less than two business days. Need help reading your EOB? Our Member Services Team is standing by to help.