A new dental solution.
Are you paying high fixed monthly premiums for a dental benefit that has a low annual benefit payout?
FACT: Dental Insurance results in billions of dollars wasted annually.
The average dental payout is only $362 per person annually, whereas the dental premiums are usually in excess of $600 per person per year. Forty percent of every dollar paid into dental insurance is lost.
Turn this waste into potential savings by utilizing the Dental Difference.
Nationally, companies spend over $62 billion dollars per year on dental insurance. $25 billion of those dental benefit dollars go directly to Dental Insurance carrier margins.
Instead of giving the insurance company high fixed dental premiums, utilize the Dental Difference and only pay for dental claims that are actually incurred by your employees. Only pay for what you need.
Watch the Video – Dental Insurance Myths: Dental Dialog with Dr. Dan.
The Dental Insurance Problem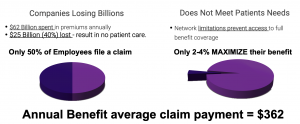 The Dental Benefits Solution

Improve your employee dental benefits with Dental Difference.
Are you tired of dental plans denying claims and downgrading services?
Limitations, exclusions, downgrades, inaccurate estimates – employees are tired of the lack of transparency and games played by Dental Insurance that increases their out-of-pocket costs!
Watch the Video – In Office Dental Plans: Dental Dialog with Dr. Dan.
The Dental Difference is designed to empower employees and provide top line dental benefits. Shift away from the limiting traditional 100% / 80% / 50% payout model to a streamlined 100% funding approach using the Dental Difference technology and only pay for what you need.

Dental Discounts
Visit MyDentistMatch to find a provider in your area that offers dental discounts with an in-office plan.
Price transparency and dentist reviews provided by MyDentistMatch. Find a dentist thats the perfect match for you.