New Health and Wellness Videos in the Member Portal!
We are excited to announce a brand-new catalog of online health education and wellness videos! If you are a Difference Card member, login to your account now to check out 50 new health and wellness videos available in your portal.
Click here to access the member portal. 
Throughout the year, we will continue to bring in collections of new health and wellness videos in the portal to provide our members with constant access of innovative material.  
The wellness videos in our portal are offered in both in English and Spanish. We are committed to ensuring we serve our members in the language they most feel comfortable with.
In addition to the new content, the updated video catalog matches changes in users learning habits. Research has shown that shorter educational videos are better able to keep the user's attention and focus, compared to videos that are longer in length.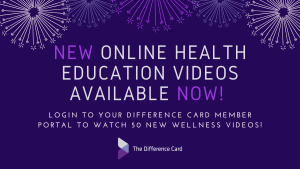 Below are just a few of the new wellness videos that can be found in the portal:
Common Skills to Help You Cope with Stress
Stress can have long-lasting effects on your life and health, but you can use healthy lifestyle changes and relaxation tools to help you cope with stressors. Things like exercise, a healthy diet, mediation and positive self-talk can all help relieve the mental and physical symptoms of stress.
Putting MyPlate Into Action
After viewing this clip, the  viewer will be able to use MyPlate to make the most of healthy food choices.
Positive Self Care Management
This video will teach you how to become a positive self-manager, the importance of learning about your chronic disease, and the importance of working with your healthcare team to help you cope day to day.
Exercise: Staying Motivated
Watching this video will help ensure the exercise plan the user has set is appropriate for their lifestyle, and they will learn other ways to keep motivated to assist in achieving and maintaining their goals.
Thanks to numerous medical breakthroughs people are living longer today than ever before. That means that older Americans need to learn more about aging and what they can to do to take care of themselves. "Healthy Aging" looks at nutrition, exercise, diagnostic tests and other tips to maintain the best quality of life possible.
We always will have educational wellness topics in these focus areas: 
Aging
Weight Management
Stress

 

Behavior Change
Nutrition

 

Fitness
Smoking Cessation
The health and wellness videos we post on our portal have one purpose: to help provide educational resources to that will improve the overall health and wellbeing of our members. The new catalog of wellness videos will give our members the educational tools and resources they need to help them reach their health and wellness goals.    
WELLNESS POINTS

Members can earn wellness points for watching our health and wellness videos!  The user must confirm the video is watched by answering the comprehension question at the end of the video.
After the user answers the comprehension question, the wellness points will automatically be added to the user's account.
Interested in learning more about our wellness services?