Top 6 Employee Benefits Trends for 2023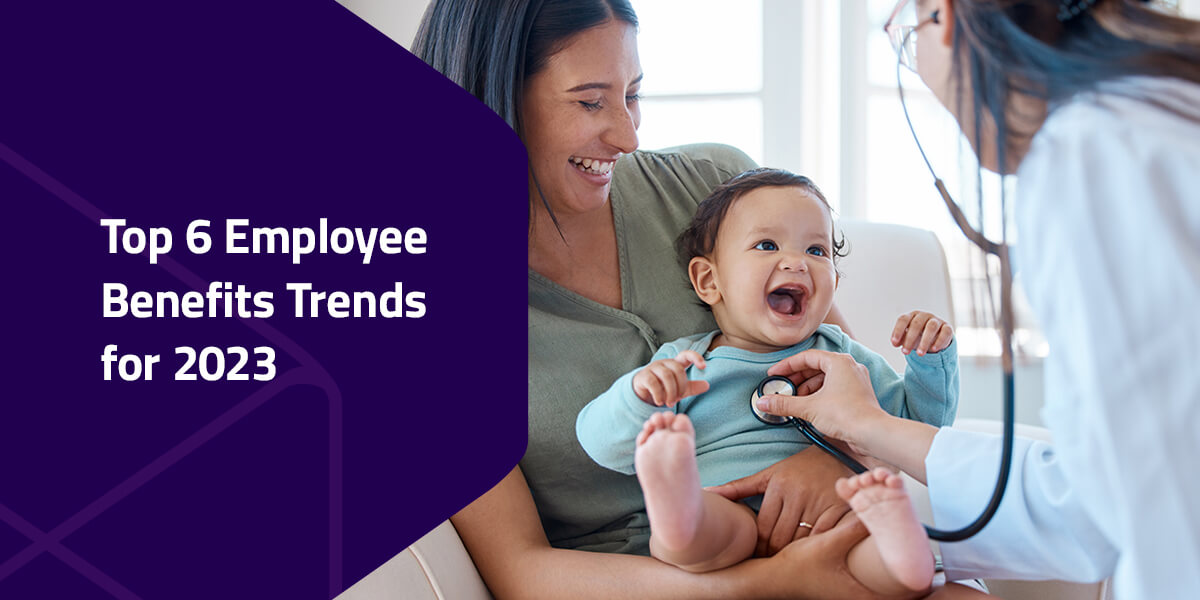 Are you curious about current and future trends in employee benefits? Learn about six key benefits trends going into 2023 below.
1. Healthcare Affordability
A healthy workforce is a primary tool for success. It drives innovation, productivity, a positive work ethic and a favorable working environment. A significant challenge has always been the cost of healthcare.
Over the past several decades — between 1960 and 2021 — the cost of healthcare in the United States has risen from 5% of the GDP to 18%. Although the medical cost per employee is expected to rise by 5.6% in 2023, more employers are assisting employees with access to healthcare.
Many organizations are implementing strategies to make healthcare affordable for employees as a motivating incentive. These strategies can help boost companies' reputations and encourage employees to be more proactive.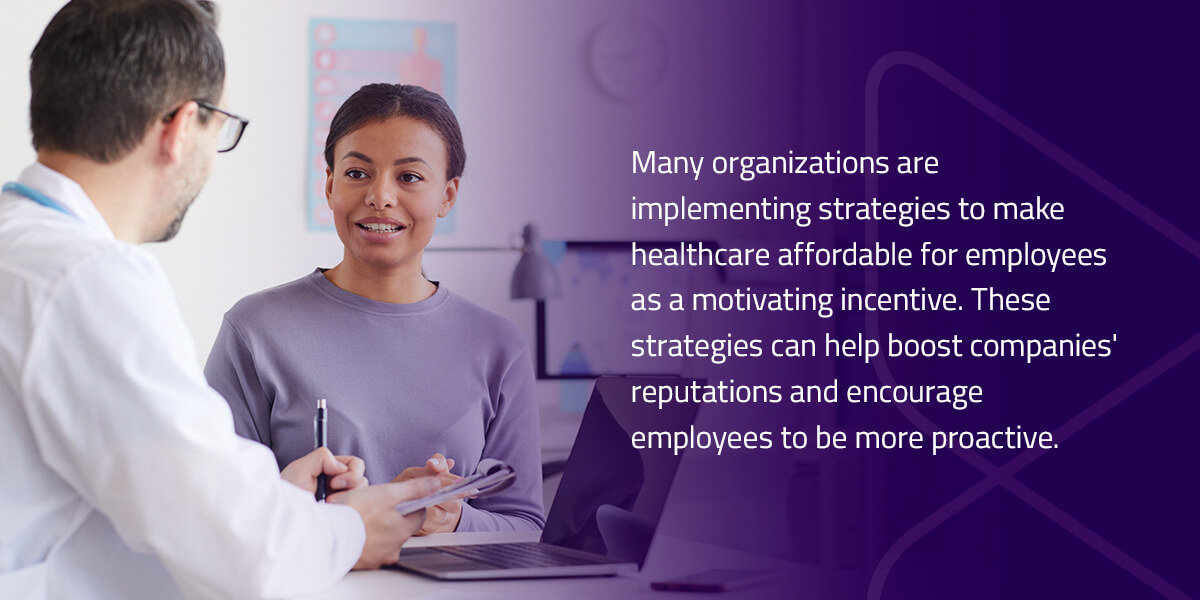 Investing in employee health also reduces healthcare spending. Regular checkups help employees catch health challenges early, so they can treat conditions before they become more severe, saving lives and money.
2. Remote Work Policies
Remote and hybrid jobs have grown in popularity over the past few years. Besides having the opportunity to work from home, which saves employees and employers time and money, the flexibility remote work affords helps employees maintain a better work-life balance. Remote jobs also give employers access to a larger talent pool.
While flexible jobs remain a top priority for most employees, employers must find the perfect arrangement depending on the job and the employees within the organization. Hybrid systems, which involve a combination of in-office work and remote work, allow employers to benefit from both options and provide a pathway to full remote jobs when necessary.
3. Family-Friendly Benefits
The desire to strengthen family ties is linked to flexible working hours and arrangements. While it has always been clear that high job demands impact employees' relationships with their families, employers have also learned that it affects job performance.
Most employers are implementing work policies beyond what's expected of them by federal law. Paid adoption leave, paid parental leave, child care support and surrogacy benefits are growing popular among employers, in addition to flexible working hours. Also, there is a surge in specialized benefits that supports reproductive health.
4. Pay Transparency
Pay transparency has emerged as one of the top future trends in employee benefits. More employers are open to communicating pay-related information to current and potential employees through established practices and channels such as job postings, online job sites and interview sessions.
State and local governments are implementing laws to address the high demand for pay transparency in the United States. Washington, Connecticut, California, Colorado, Maryland, Nevada and Rhode Island have all passed pay transparency laws. Cities including Jersey City, New York City and Cincinnati have followed suit.
When applying for positions, the estimated job compensation is an essential consideration for potential employees. It makes the market fair and competitive. It's also an excellent opportunity for employers to establish trust with employees. Even in the absence of laws, more employers are providing pay-related information for job openings as a way to create transparency with candidates.
5. Voluntary Benefits
Voluntary benefits have appealed to many employers over the past years. However, the trend is finding favor with employees, too.
The most popular examples include supplemental health insurance policies such as critical illness, accident, hospital indemnity and permanent life insurance. Employees can pay a small monthly premium and receive a direct payout to assist with coverage expenses. Other voluntary benefits include student loan assistance, legal protection, identity theft protection, auto or home insurance and pet insurance.
Voluntary benefits offer multiple benefits, including:
Improve employees' health
Improve job satisfaction
Save employees money
Eliminate stress while enhancing focus
Reduce employees' time off work
Attract top talents
Partnering with healthcare planning experts can make all the difference. These organizations have the resources to optimize voluntary benefits by utilizing reimbursement systems, risk transfer solutions and wellness strategies. Healthcare planners enable employers and employees to have access to the highest level of benefits while saving money.
6. Workplace Mental Health Support
Due to the rise in reports of symptoms of anxiety and depression, many employers develop incentives to create mental health awareness and mitigate the risk of occurrence. Supporting employee mental health increases productivity and decreases healthcare costs. It also improves retention, which is necessary for long-term success.
Implementing effective strategies to support employees' mental health is straightforward with these guidelines:
Understand the impact: Provide training programs for managers to demystify the impact of mental health on the individual and the entire organization. This will help them identify signs of emotional stress and implement mechanisms to eliminate such occurrences. Use mental health questionnaires to gather information for measuring how your employees' health and stress levels affect their productivity.
Launch an employee assistance program: Establishing work-based intervention programs can help employees resolve mental health challenges. Ensure sessions are accommodating and confidential to allow employees to express themselves without holding back. For example, provide direct access to mental health professionals in place of open sessions to facilitate one-on-one discussions.
Incorporate mental health coverage into healthcare plans: The Mental Health Parity and Addiction Equity Act requires most health insurers and health plans offering coverage for mental health conditions or substance use disorders to make the benefits comparable to medical and surgical coverages. This helps bridge the disparities between mental and physical health challenges. Employers and employees are taking advantage of healthcare products such as Health Savings Accounts, Flexible Spending Accounts and Medical Expense Reimbursement Plans to optimize access to mental health professionals.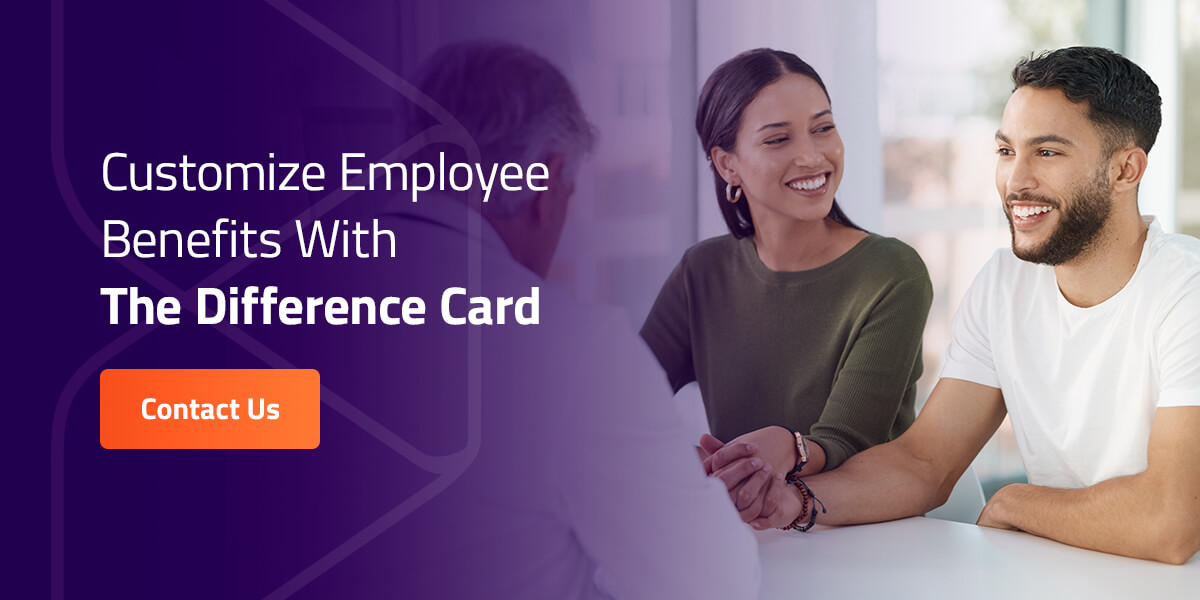 Customize Employee Benefits With The Difference Card
The Difference Card helps you build the most effective healthcare plan for your organization's employees. It allows you to personalize solutions that give you access to the best benefits at competitive prices. All of our clients get dedicated account managers with specific industry expertise to guide them through the process.
Contact us now to learn more about our products and services.