April Case Study: Midwest Non-Profit Saves Nearly $2 Million in First Two Years with The Difference Card.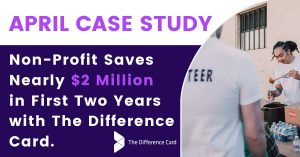 A Midwest non-profit saved $1,914,177 on medical insurance cost in its first two years with The Difference Card. $1,047,325 was saved in the first year and $866,852 was saved for year two using The Difference Card strategy for a total of nearly $2 Million!
With over 400 employees, this non-profit that helps medically underserved populations, began using The Difference Card on January 1, 2020.
Using our proprietary MERP (Medical Expense Reimbursement Plan) strategy, The Difference Card helped this employer move to a more cost-effective fully insured plan.
They ultimately were able to improve benefits- helping them to attract and retain employees during a challenging time.
This company offered multiple plans that we were able to enhance with The Difference Card strategy:
Doctor Visit Copays were reduced to $0
Urgent Care Copays went to $50
The Difference Card also improved the prescription copays and improved the out-of-pocket responsibility for the members, which provided more affordable coverage with less cost to their employee population.
"It is rewarding to see that this non-profit group was able to improve benefits and save money that translates to providing more services to inner-city neighborhoods and communities."

– Lee Bowers, Difference Card Consultant
The employer was able to keep the same insurance carrier, which meant no disruption to their employees or having to change carriers or networks.
This will help this employer to continue hiring more employees in 2022 and offer the best possible benefits at the lowest cost in the years ahead.
The Difference Card is a multi-year strategy that helps employers in all industries to save an average of 18% off their health insurance costs, while often improving benefits for employees.