Difference Card Scores High in Customer Satisfaction
The Difference Card brings in Outstanding Results from Their 2021 Annual Client Reviews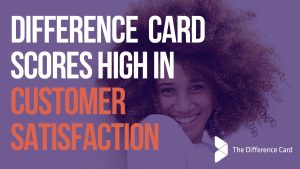 The Difference Card is 100th Percentile in Customer Satisfaction
The Difference Card achieved a 51 NPS Score out of 100, and this is a great achievement considering the Industry average NPS Score for Health Insurance is 24. In addition to achieving a high Net Promoter Score, The Difference Card also scored in the 100th percentile for customer satisfaction when compared to other health plans.
What is a Net Promoter Score?
Net Promoter Score, or NPS, is a metric used to evaluate customer experience and loyalty to the company. The Net Promoter Score is used to track how a company is perceived by its customers and this score is generated from a survey. Customers are given a one question survey with a number ranging from -100 to +100. Higher number scores indicate a greater customer experience and perceived customer loyalty.
Difference Card Account Management Team Delivers on Service
In addition to The Difference Card's high customer satisfaction rating and net promoter score, our Account Management team also delivers next level service.
To put it into perspective, 94% of Difference Card clients rate the response time of their Account Manager as very to extremely responsive. Additionally, 90% of clients would rate their overall experience with their Account Manager as far above average to above average.
Members Experience World Class Treatment with Customer Care Team
As if our outstanding Account Management Team and glowing Customer Satisfaction ratings weren't enough evidence of the next level service that The Difference Card brings, our Member Services Team also rated high for member experience.
When surveyed, 88% of Difference Card Members rated their experience with the Member Services Team as extremely helpful. Nearly 90% of members are satisfied with the claim reimbursement turnaround time. The average speed of answer is 32 seconds when calling The Difference Card and our Member Services team is rated at 4.75 out of 5 stars.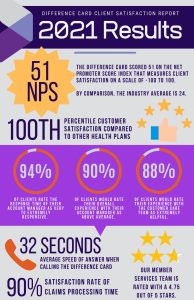 Thank you to our clients!
2021 was a challenging year for everyone. We are so grateful for the partnership of our Brokers and the loyalty of our clients. We will continue to put our clients first in 2022 and beyond. Wishing all of our clients success and prosperity as we continue to partner in providing high quality healthcare options at an affordable price.
Interested in learning more about The Difference Card?
Nearly 70% of clients choose The Difference Card to not only save money, but to also keep benefits rich for employees.
Find a Consultant in your region to see how we could do the same for you or your clients or request a proposal today.