Education Case Study: University Saves $176,595 on Renewal & Improved Benefits Using The Difference Card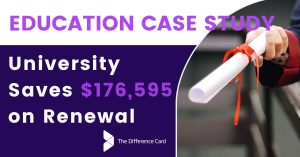 Using our proprietary MERP (Medical Expense Reimbursement Plan) strategy, the Difference Card helped a university build the most cost-effective healthcare plan for their January renewal. The client was receiving a 38% renewal increase from Aetna. The firm's Health Insurance Broker engaged The Difference Card to help with a solution to reduce this renewal and IMPROVE benefits to staff.
Read Our Education Case Studies
Our Southeast Team was ultimately able to save this customer $176,595 off their health insurance costs and reduce their 38% renewal down to 19.9%.
This company has about 140 employees with 121 enrolled in the Health Plan. Their current benefits strategy included four plan offerings – two H.S.A plans & two gold copay plans.
By moving this company one Bronze Plan with Aetna, The Difference Card was able to reduce the fixed insurance premiums by almost 34% for this customer.
Our team of Data Analysts and Underwriters reviewed the demographics of the group and came up with a conservative forecast of claims utilization. The goal of this university was to consolidate plans.  They built back to two plan offerings instead of four, and enhanced benefits for employees.  Using The Difference Card Strategy, the net renewal was cut in about half.
The end result was $176,595 in net savings for this University, while improving benefits.
This University came to us seeking a way to maintain the rich benefit plan in place for their educators, but didn't want to pass the increased cost associated with that plan along to them. With The Difference Card MERP Strategy, we were able to IMPROVE benefits beyond their current plan – giving these deserving educators the best benefits possible at the best price.

–Oldemar Da Silva, Senior Consultant at The Difference Card
The Difference Card helps employers in all industries to save an average of 18% off their health insurance costs, while often improving benefits for employees.
To learn how much The Difference Card can save you, find a consultant in your region or request a proposal today.