How to Increase Employee Engagement Through Benefits Technology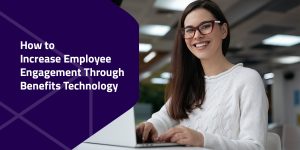 It's no secret that employee benefits can be complicated — for both the employee and employer. Between health insurance enrollment, costs, selecting benefits and completing forms, it's no wonder many employees are less engaged with benefits overall. As an employer, it's important to know how to explain benefits to employees so they can make well-informed decisions.
It's also beneficial to inform employees about their options and ensure they have access to resources that make it easier to prioritize their health. With benefits technology, employers and employees can experience quick support, educational tools and the means to build a cost-effective healthcare plan. Below, we'll discuss ways to increase employee benefit engagement with technology and how to make benefits easy for employees to understand.
What Is Benefits Technology and How Does It Work?
Benefits technology encompasses many tools and resources that make it easier for employers to provide health benefits to employees. This technology also allows employees to view, manage, understand and use their benefits. With certain tools, like chatbots, digital platforms and AI-based solutions, employers can make benefits administration faster, more efficient and accessible 24/7.
Many organizations transition to technology as a resource for employee benefits. This transition simplifies critical aspects of the workplace, including:
Payroll
Enrollment
Employee visibility
Data protection
Compliance
Benefits technology acts as a powerful productivity tool for organizations that want to increase employee control over their benefits and provide them with a more seamless experience. This solution is also essential for businesses with remote workforces, especially after the COVID-19 pandemic, where many workplaces shifted to a completely online presence.
Benefits technology makes it possible for your HR and management teams to reduce time-consuming and paper-based tasks associated with employee benefits. As an employer, you can put more power in the employees' hands through an online portal and increase their satisfaction.
Advantages of Benefits Technology
Ultimately, benefits technology works by providing value to both the employer and employee. Here are four top advantages of implementing benefits technology in your organization.
Increase Employee Engagement
When employees are more satisfied, they'll likely be more engaged overall with their job benefits. Automation and digitalization make it easier for employees to access their benefits or ask questions about enrollment. Instead of having to schedule a meeting with HR or find time in their busy day to speak with you about their benefits, employees can view this information from an online dashboard or portal anytime.
This ease of use will likely:
Reduce many of the frustrations employees feel about understanding their own benefits
Provide them with more-informed choices
Establish transparency, which can lead to improved engagement in the workplace
Improve Efficiency
Transferring employee benefits data from paper-based documents to a digital platform can improve efficiency by reducing hassles and improving access for employers and employees. As an employer or benefits administrator, it's important to determine what you and your employees need and choose a digital solution that can meet the requirements.
Using technology to manage employee benefits, for example, can reduce the tedious task of filling out forms to update benefits. This type of benefits platform can also localize data and integrate it with payroll and providers, helping boost efficiency for you and your employees by minimizing redundancy.
Streamline the Benefits Experience
With benefits technology that allows for solutions like online enrollment and control over exploring benefits options, employees can make some of their own decisions. Additionally, employees can enroll whenever and wherever they are. Keeping all benefits information and service options in one place streamlines the entire experience.
By enhancing each step of the benefits process, HR and management teams can spend more time on other tasks that benefit employees, such as recruiting more talent and implementing more effective training portals. Reducing manual tasks and human errors allows HR to continue improving the employee experience.
Enhance Compliance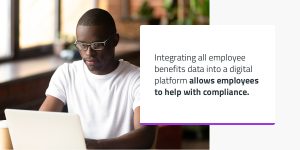 As with any employee data, it's critical to maintain compliance across your organization. Fortunately, integrating all employee benefits data into a digital platform allows employees to help with compliance by taking ownership of their own information.
For instance, if an employee needs to make a change to their coverage due to a divorce, marriage or birth of a child, they can change it directly. Once they input the data, the HR team will be notified and can approve or decline the change in the system. This can prevent employees from experiencing issues with coverage and minimizes the administrative burden on employers.
How to Increase Employee Engagement Through Benefits Technology
Now that you know the effectiveness and advantages of implementing benefits technology for employees, let's look at how you can improve employee engagement in your own organization.
1. Create a Personalized Experience
A challenging aspect of benefits administration is helping employees find options that meet their unique and changing needs. With benefits technology, you can increase employee engagement by creating a personalized experience that empowers them and helps them prioritize their care. These digital platforms provide the tools and resources employees need to make healthcare easier and more affordable, such as:
Providing flexibility to employers to limit claim exposure and customize employee benefits
Giving employees access to search for in-network providers before setting up an appointment
Saving money with prescription discounts
Offering health and wellness presentations that educate employees on the best ways to take care of their health
2. Streamline Communication
There's no use to a benefits system that makes it difficult for employees to find the answers to their questions and know what their options are. By implementing benefits technology, you can streamline communication with features like a user-friendly mobile app and member portal, where employees can contact a representative to help them manage their health needs.
With better communication surrounding health insurance and costs, employees will understand their benefits and can take advantage of more savings. Streamlining your communication process when it comes to benefits can increase your employees' engagement by reducing their frustration or stress surrounding their health insurance.
3. Simplify Daunting Tasks
One of the most likely issues employees face when dealing with health insurance benefits is how complicated and time-consuming they can be. Using benefits technology, you can simplify many of the stressful tasks for employees, making it easier for them to connect their benefits to their needs. Benefits technology allows employees to educate themselves on their medical service options and take control of their expenses.
Without this technology, employees would spend hours staring at paperwork and not understanding how to input changes, file a claim or access their member benefits package. The goal of benefits technology is to offer tools and resources to both employers and employees that reduce the burden of benefits and help minimize out-of-pocket costs, especially with the rising prices.
Additionally, benefits technology can help employers save on healthcare costs with the same or better coverage. At the end of the day, this can increase employee engagement because dealing with benefits and enrollment will become much more feasible and easy to use.
How The Difference Card Can Help
The bottom line: Providing and managing employee benefits can be challenging, especially for employers who already have so much on their plate. Implementing the right technology can make all the difference in selecting and administering benefits to your employees.
The Difference Card is the benefits solution you need to provide a cost-effective healthcare plan and increase overall savings for your organization, for both you and your employees. Since 2001, it's been our mission to provide our clients with a more streamlined, efficient and affordable benefits system, and we've been able to produce an average net savings of over 18%.
Our product revolutionizes the healthcare benefits process by implementing:
Wellness strategies
Medical reimbursement systems
Risk transfer solutions
With these features, we've saved our clients millions of dollars without compromising high levels of employee benefits. In addition to the Difference Card, we also offer The Difference Benefits Admin System, which includes a comprehensive suite of tools, platforms and products to provide you and your employees with automated or self-service benefits administration.
If you're ready to increase employee benefits engagement in your organization, request a proposal today to learn how our technology can simplify benefits and help your employees put their health first.