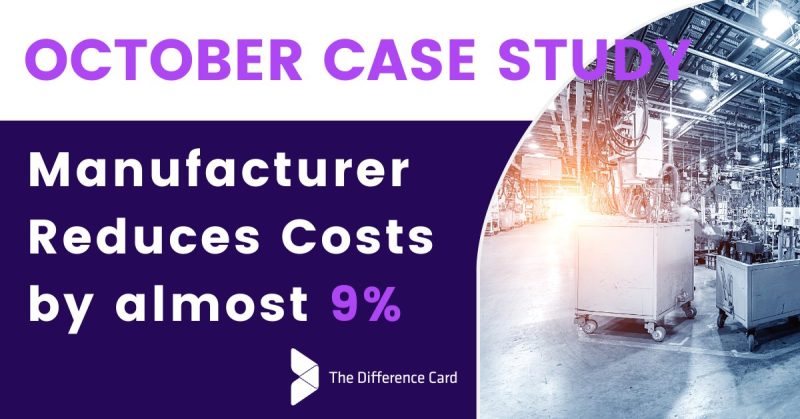 October Case Study: Washington State Manufacturer Reduces Costs by almost 9% Using The Difference Card!
Using The Difference Card's proprietary funding strategy, The Difference Card helped reduce the cost of a Washington-based manufacturer on their healthcare renewal in October. The client was receiving an 8% increase from their Kaiser plans when their Health Insurance Consultant turned to The Difference Card for assistance in giving it a second look.
Our Southeast Team worked with the employer and their consultant to save this customer $31,446 on their health insurance costs and reduce their 8% increase to a 1% reduction
This employer had about 43 participants in their dual-option medical plan, where the original benefits strategy included two Silver HMO plans.
By moving this group a bronze plan within the same network, The Difference Card was able to qreduce their health insurance premiums and self-fund any changes in benefits.  Compared to renewing as-is, the group actually improved their benefits and significantly reduced their cost.
Our team of Data Analysts and Underwriters reviewed the benefits, employee census, and plan rates and came up with a conservative forecast of claims utilization. After benefits were built back to the original dual-option by using The Difference Card Strategy, their $383,000 renewal was reduced to $285,984 – a 25% reduction in fixed premium with Kaiser.
Many Difference Card customers look for financial protection when taking on the risk of paying claims for their employees. This 40-year-old manufacturer, who specializes in plastics and stamping, decided to purchase The Difference Guarantee insurance policy, which capped the client's liability and guaranteed a savings.
"This company wanted to keep current carrier and rich benefits without impacted the employees, and the Difference Card was ultimately the best fit for them. Both the consultant and the employer were highly motivated to make a move to the difference card not just for our level of service but for the way the funding is administered and the support The Difference Card provides to their clients."

– Oldemar Da Silva, Senior Consultant
The Difference Card helps employers in all industries, not just manufacturing, to save an average of over 18% on their health insurance costs, while often improving benefits and experience for employees.
To learn how much The Difference Card can save you, find a consultant in your region or request a proposal today.