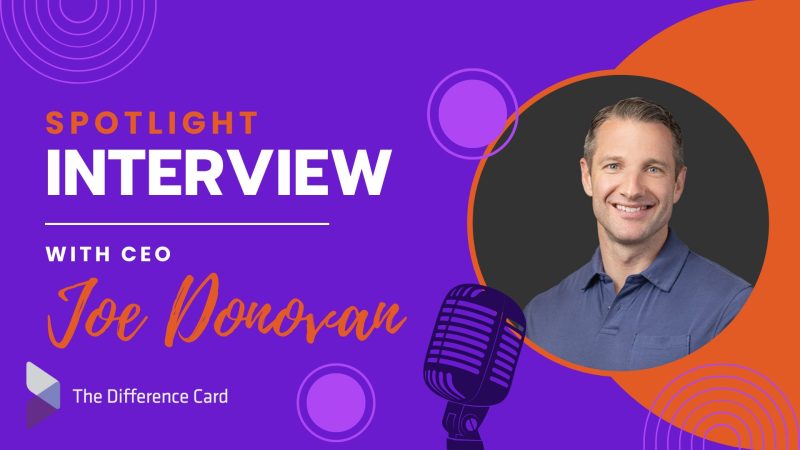 Spotlight Interview with CEO, Joe Donovan
Joe Donovan sits down with Medical Travel and Digital Health News for a deep dive on The Difference Card
Joe Donovan met with Laura Carabello, the newsletter editor of Medical Travel & Digital Health News, to talk about the intricacies of The Difference Card and how it works to help employer groups reduce their healthcare spend.
Medical Travel and Digital Health News (MTDHN): Can you tell our readers how you got involved in this industry and what your company is about?
Joe Donovan (JD): Towards the end of my time at Syracuse University, I learned of a group school training program that was run by UnitedHealthcare (UHC). This was a program that brought in recent college graduates from 16 major cities across America to Minnesota, once a week for six months.  Thankfully I was accepted and spent the next four years working in UHC's New York City office selling fully insured and self-insured group medical insurance to commercial customers. During that time, UHC acquired both UMR and Oxford, which were competitors prior to the acquisition. It was great from a network and contracting perspective and helped our new business sales. UHC was a great place to kick off my career and cut my teeth in the insurance world.
I was then recruited to a company called Employee Benefit Solutions which had a niche product called "The Difference Card".  At the time, the organization consisted of only the founder and five employees. I was 24 years old making 100 cold calls a day to employer groups trying to win Broker of Records (BORs).  Eventually, I approached the founder about the possibility of selling our Difference Card product through my broker network.  After some back and forth, he finally agreed to let me pilot selling our product through insurance brokers.
During my first six months as a traditional broker, I wrote three BORs going direct. During the following six months of the pilot program, I wrote 36 accounts going through my broker network. The next 12 months that number jumped to over 80. Things took off from there and we started growing exponentially.
In the early days we were stacking a Health Reimbursement Account (HRA) and Flexible Spending Account (FSA) on one card, which was a big deal back then. Unlike traditional HRA vendors, we were creating customized co-pay reimbursements that were different from benefits traditionally offered by our competition.
We marketed our plan as a mini self-funded plan, although we sat on top of a fully insured chassis. Today, our client base has grown to well over 1,000 customers, our target market is 25 to 500 employees, and we work primarily in the fully insured market.
MTDHN: Can you tell us more about the Difference Card?
JD: Today we don't like calling ourselves an HRA vendor. We offer Medical Expense Reimbursement Plans (MERPs). While an HRA must be strictly employer funded, our Difference Card can be both employer and employee funded, which is a big advantage for many of our customers.
Instead of giving someone a lump sum of money, we can code our system on a line-by-line basis. This means our Difference Cards know the difference between different areas of the plan, for example office visit vs. emergency room vs hospital and pharmacy visits.
In conjunction with our broker partners, we recommend purchasing a more cost-effective health plan with higher deductibles and copays that inherently shift risk from the insurance carrier back to the employer. Then, we underwrite the plan to ensure we are comfortable with expected claims when funding those deductibles and copays at the level of the employer's choosing.
Throughout the history of the Difference Card, we have always achieved savings for our clients. Our goal is to democratize what the big companies are doing in the way of true self insurance and bring it down to the small to midsize employer market, which is why we typically focus on employers in the 25 to 500 employee range.
We give our clients the opportunity to risk share which historically provides significant savings potential while providing custom plan designs to their employees just like larger companies do standardly.
We have also had a lot of success in the public sector because of the common "equal to or better than" clauses. Our ability to build custom design plans make us a great fit for Union populations as we provide transparency—something the small to mid-size employers don't always get. Typically, unless you're a much larger employer, you don't get much information in terms of data.
Transparency in regard to reporting is a huge part of our offering. Of course, all reporting is HIPAA compliant, but traditionally the small to midsize employer gets very little in the way of data from the insurance carrier. Having data equals power, and we've been able to recommend bespoke plan design changes that work for our clients in second or third-year renewals as opposed to simply sticking to a cookie cutter listing of buy down options provided by the carrier.
Cost savings, flexibility and transparency are the three main outcomes we provide to our clients. When you combine those three outcomes with a world class service experience, it's a win-win.
All Difference Card distribution is done through insurance broker partnerships. We have great partnerships that allow us to be a cost-saving option for our broker's small to mid-size employer clients. We have about a quarter of a million members today and roughly 1,200 to 1,300 employer groups offering The Difference Card.
MTDHN: In terms of traveling for care, would the card apply if, for example, I lived in Vermont and wanted to go to the Cleveland Clinic for treatment?
JD: Yes, because the Difference Card is tied to the underlying healthcare plan & network, our members would see so no difference between their underlying health insurance network when using The Difference Card. If the provider is in your network (i.e., UHC, Aetna, Cigna, BCBS, etc.) our card works just as well down the street in Vermont as it does in California.
For this same reason The Difference Card does not determine in-network versus out-of-network. Your underlying insurance carrier determines that, and we code the cards to build the specific plan each employer wants to deliver.
MTDHN: Do you work with Medicare Advantage plans? 
JD: Not today, currently we are focused solely on commercial plans.
MTDHN: Do you have any competitors? 
JD: Interestingly enough, we don't have any true competitors that do exactly what we do. You could make the argument though that anyone who offers FSAs, HRAs or Health Savings Accounts (HSAs) would be competition.
Where we truly differentiate ourselves is in the Medical Expense Reimbursement Plan (MERP) space.  When I think of how we use a MERP strategy to build custom plans combined with our 20+ year track record and the transparent reporting available, I don't know of another company in the space that comes close to what we do.
MTDHN: How big is your organization? 
JD: We currently have about 100 employees across the country. We transitioned to a fully remote company during the pandemic and haven't looked back. I view being a remote-first company as a real competitive advantage.  We are able to hire top talent in any geography. When you combine the ability for your employees to work from home with getting the team together purposefully a few times a year for that "in real life experience" I think it creates a unique 1 + 1 = 3 combination.
MTDHN: Are you a member of any organization that you want to give a shout out to? 
JD: We are big fans of National Association of Benefits and Insurance Professionals (NABIP), formerly the National Association of Health Underwriters, and many HR organizations across the country like Strategic Human Resources Organization (SHRM) and Employers Association of the Northeast (EANE).
MTDHN: If someone was traveling from out of the country, is there a card that would cover those expenses?
JD: It's an interesting idea that we've certainly thought about. However, we are currently tied only to domestic plans. Therefore, unless an employer has a domestic plan with a domestic carrier, we would not be able to help them.
MTDHN: Is there anything else that you would like to share about yourself or your organization?
JD: I've spent about 14 years at The Difference Card. I've seen it grow and innovate every year. Having spent time on the broker side recently, I learned first-hand just how competitive and challenging it can be to succeed in that space. Clients are demanding more from their brokers and in turn brokers are demanding more from their partners.
This has fueled my desire to continue driving innovation and product enhancements for both our broker partners and clients. The Difference Card may not be the perfect fit for every client, but when it works, it works very well.
Insurance brokers who understand the self-funded world see our product as a way to provide savings to their fully insured clients.  Most of these small to midsize employer clients don't have many options due to the fact that the really creative solutions are typically only available to larger employers.
More often than not these smaller employers are confined to ACA-compliant, fully insured plans that have no end in sight when it comes to rate increases. Unfortunately, I believe it's going to get worse before it gets better with some of the "revenue catch up" that I am seeing on the provider side.
Ultimately, our goal at The Difference Card is to provide our brokers and their clients with another arrow in their quiver when it comes to combatting these never-ending health insurance rate increases. We aim to be the solution of choice for small to mid-size employers who strive to get the most out of every dollar they spend on their health plan.
Interested in learning more about The Difference Card?
Request a proposal today to see a benefit analysis for your client or company.
This article originally appeared here: Medical Travel & Digital Health News