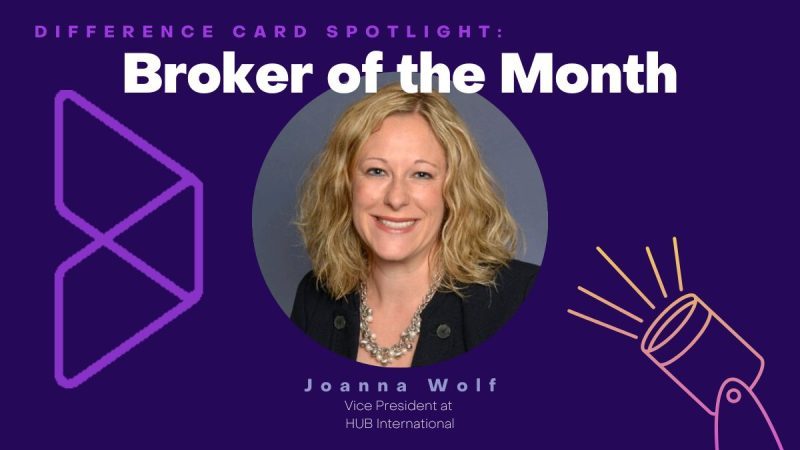 Spotlight of the Month on Difference Card Broker Partner, Joanna Wolf
Congratulations to Joanna Wolf, of HUB, for being recognized as the Difference Card Broker Partner of the Month for December 2022!
Joanna Wolf is a Vice President at HUB International in the Pittsburgh, Pennsylvania market. Joanna partnered with Rachel Wilburn from The Difference Card team to help several employers reduce their health insurance renewals, while keeping their employee benefits intact. Joanna and her team at HUB placed three customers with the Difference Card in the month of December.
These new customers utilized the Difference Guarantee strategy to reduce their double digit insurance carrier renewal increases down to the single digits. Jonna and her team of employee benefit Account Executives designed the program to put a cap on the employer claim liability, to guarantee that their benefits cost would be lower than the renewal. In addition to the savings, the Difference Card strategy helped these organizations to maintain their low deductibles and copays. The system provided lower costs, richer benefits and administrative ease by handling the COBRA compliance services too.
"The Difference Card is one of our go-to-strategies for helping mid-sized employers to provide great benefits for their staff in a more cost-effective way. My team has placed several clients with this program in the past month with amazing results!

– Joanna Wolf
Joanna has over 15 years of experience in the insurance industry. She is currently the manager of the small group employee benefits department at HUB. Joanna got her start at the HDH Group, which became HUB International Pittsburgh. HUB is an employee benefits broker for changing times. The HUB team provides an exceptional brokerage experience by giving customers a clear, concise path forward which fits the evolving needs of each employer's workforce.
To partner with HUB Employee Benefits and learn more about their unique Difference Card Strategy, reach out to their Practice Leader Vince Maromonte via email at vince.maromonte@hubinternational.com
The Difference Card is a multi-year strategy that helps employers in all industries to save an average of 18% off their health insurance costs, while often improving benefits for employees.
Request a proposal HERE.