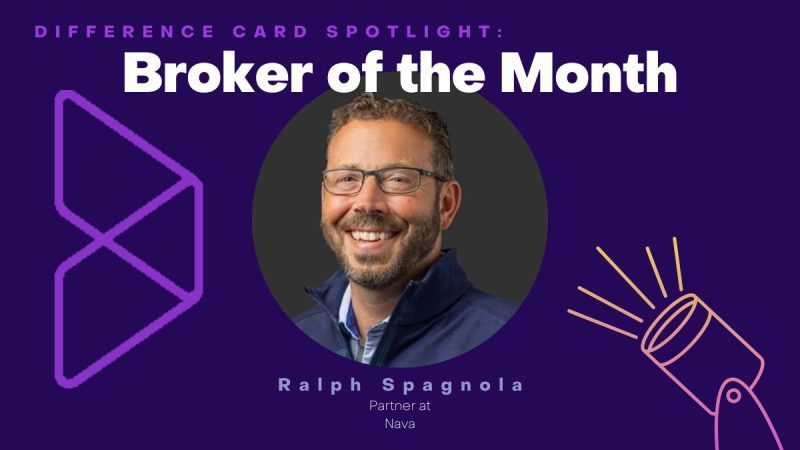 Spotlight of the Month on Difference Card Broker Partner, Ralph Spagnola
Congratulations to Ralph Spagnola, of Nava, for being recognized as the Difference Card Broker Partner of the Month for June 2023!
Ralph Spagnola is a Partner at Nava in the New York and New Jersey markets. The Difference Card sales team and Ralph have worked together for over ten years. Ralph recently worked with Emily Coughlin-Molloy, a Senior Consultant from the Difference Card East team, on several new business wins. Their recent success has helped Nava to elevate their agency to the Purple Producer status with the Difference Card.
One of Ralph's recent success stories with Nava and the Difference Card involves a non-profit behavioral science employer with over 90 employees in the Northeast. To help retain and attract new employees, this organization was looking for a solution that allowed them to improve benefits, while also lowering their overall healthcare spend. With Ralph's creative strategy, this employer was able to deliver $0 in network coverage for their members across all services. The Difference Guarantee program put a maximum liability on their health insurance spend, which resulted in a net saving of $350,000! To streamline the administration of their benefits package, this employer also elected the Difference Card's Health Reimbursement Arrangement and Flexible Spending Account programs. The Differences Card's unique technology allowed this company to have their MERP, HRA and FSA benefits on all a single MasterCard.
Ralph started his career at Oxford Health Plans in New York, then moved to Group Consulting, Inc. as the President of that insurance agency. His next move was to Check Point HR, gaining additional knowledge of the human resources technology and payroll market. Ralph brought over twenty years of industry experience with him when he joined Nava as a Partner three years ago. Ralph and Nava bring the big company playbook to employers in the mid-market space. They believe that no one should have to choose between the health of their employees and the health of their business. Ralph brings creative solutions to his customers, like the Difference Card, to help employers provide better benefits at a better price.
To partner with Nava and learn more about their unique Difference Card Strategy, connect with Ralph on Linked In.
The Difference Card is a multi-year strategy that helps employers in all industries to save an average of 18% off their health insurance costs, while often improving benefits for employees.
Request a proposal HERE.