Live Webinar: Tour Our New Difference Benefits Admin System
Join us for a live webinar to take a look at our new Benefits Administration System.
We are excited to launch our brand-new Difference Benefits Admin System and would like to take you on a behind the scenes tour!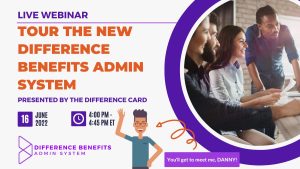 During this exclusive Broker Only webinar, you will:
Discover a better way for your clients to administer open enrollment
Meet DANNY, our benefits decision support guide
See our COBRA offering: easy administration + integrated with payroll
Completely streamline Difference Card Benefit Administration with NO manual process required
Our Difference Benefits Admin System is the complete package for any size organization!
DATE: Thursday, June 16th
TIME: 4:00 – 4:45PM ET
HOSTED BY: The Difference Card
SPEAKERS:
Chris Calderone | CRO of The Difference Card
Ashley Dube | Northeast Market Director of The Difference Card
Terry Robinson | Account Team Leader at The Difference Card
Learn how you can simplify life for your clients AND amplify your Difference Card results by signing up today!
About the New Difference Benefits Admin System
The Difference Benefits Admin System is a comprehensive suite of products including a new online enrollment services platform, HR Portal, COBRA Administration, and our interactive benefit decision tool: DANNY!
With the new Difference Benefits Admin System, you will have access to our Online Enrollment Services Platform, can provide COBRA administration, and manage health benefits such as Health Savings Accounts, Flexible Spending Accounts, Health Reimbursement Arrangements, Vision & Dental Benefits, Commuter and Transit Accounts and Life & Disability Insurance.
Can't wait for the webinar?
If you'd like to learn more about how The Difference Benefits Admin System can be a game changer for your clients, request a demo today or find your local sales representative.