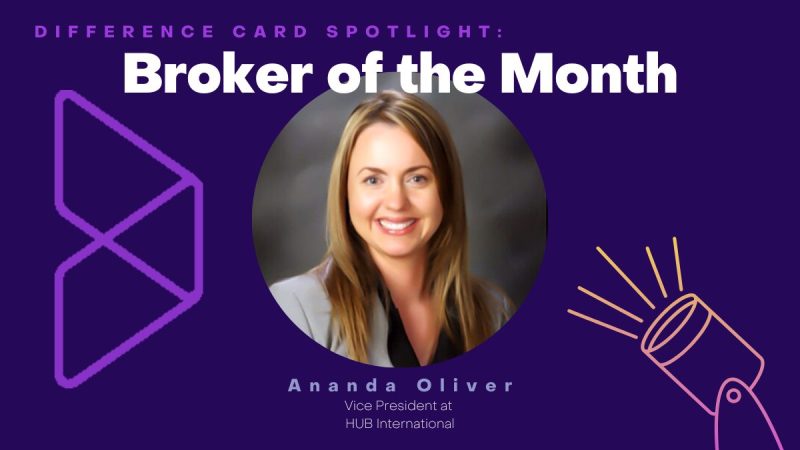 Spotlight of the Month on Difference Card Broker Partner, Ananda Oliver
Congratulations to Ananda Oliver, of HUB, for being recognized as the Difference Card Broker Partner of the Month for February 2023!
Ananda Oliver is a Vice President at HUB International in the Washington state market. One of HUB's clients in the Northern California area was facing a double-digit rate increase, which was above their budgeted level for their health benefits spend. Ananda partnered with Scott Bezanson from the Difference Card California team to find a solution for this customer.
This healthcare services employer had over 300 employees enrolled in their benefits plan and the renewal increase would have meant over a $400,000 hit to their budget.
Instead of accepting the double-digit renewal under the current structure, Ananda and her team at HUB worked with the carrier to purchase a Difference Card compatible plan design which lowered the premium significantly compared to current.
Ananda utilized the Difference Guarantee Monthly Cap strategy, which resulted in a net decrease to the overall healthcare spend for this employer by -12%. This provided the group with a fixed monthly budget and saved the employer over $1 Million off their renewal. In addition, the Difference Card funding structure resulted in improved benefits to the staff.
"The Difference Card helped us to solve a very difficult renewal for one of our large fully insured employers. The strategy turned what would have been a budget hit for this employer into a savings opportunity. HUB strives to finds creatives solutions like the Difference Card to solve insurance problems for our clients."

– Ananda Oliver
Ananda has 20 years of experience in the health benefits industry. She started as an Account Executive at Conover Insurance and moved into a Vice President of the Employee Benefits Division fourteen years ago. HUB International acquired Conover Insurance which provided additional capabilities to their team. HUB takes a strategic approach to employee benefit planning. Their team understands that providing a competitive employee benefits program is critical to attracting and retaining employees.
To partner with HUB and learn more about their unique Difference Card Strategy, connect with Ananda on LinkedIn.
The Difference Card is a multi-year strategy that helps employers in all industries to save an average of 18% off their health insurance costs, while often improving benefits for employees.