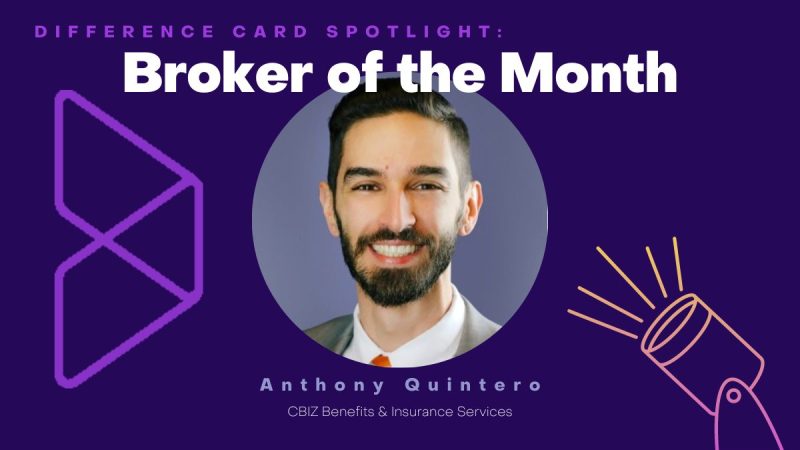 Spotlight of the Month on Difference Card Broker Partner, Anthony Quintero
Congratulations to Anthony Quintero and the CBIZ Team on being named the Difference Card Broker Partner of the Month for October 2023! Anthony, in conjunction with Abby Peterson and Dominic Cutaia, are with CBIZ Benefits & Insurance Services out of the Greater Chicago metro area. CBIZ is one of the leading national insurance brokerage firms that specializes in helping employers navigate the complexities of benefits and offers other advisory services throughout the country. CBIZ helps employers to minimize risk, attract and retain the best talent and promote employee satisfaction. CBIZ specializes in developing customized solutions to address specific challenges and goals.
Anthony and his associates worked closely with Lee Bowers, a Senior Consultant from The Difference Card Midwest Team. They assisted a large conglomerate with multiple auto dealers to provide benefits, networks and financial savings that would help their client to achieve cost-savings and improved benefits for their employee populations. The combined auto industry employer has over 300 members with multiple plan designs. The CBIZ and Difference Card team tailored the benefits to satisfy the wants and needs of this customer. The bottom line is that the employer was able to achieve substantial cost-savings. In addition to the savings, this company improved doctor office visit copays and provided better out of pocket maximums for the staff. The cost containment strategy also built a better HDHP (High Deductible Health Plan) that will help to encourage more employees to elect that option, as part of their recommended solution.
CBIZ and Anthony Quintero can be reached by phone at 630-505-3618 or via e-mail at Anthony.Quintero@CBIZ.com for further assistance.
The Difference Card is a multi-year strategy that helps employers in all industries to save an average of 18% off their health insurance costs, while often improving benefits for employees.
Request a proposal HERE.