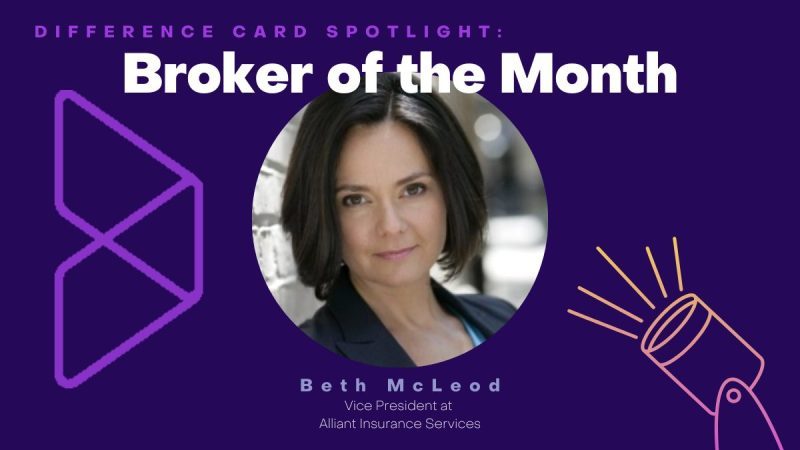 Spotlight of the Month on Difference Card Broker Partner, Beth McLeod
Congratulations to Beth McLeod, of Alliant, for being recognized as the Difference Card Broker Partner of the Month for January 2023!
Beth McLeod is a Vice President at Alliant Insurance Services in the New York, NY market. During this 1/1 season, Beth partnered with Richard Halpin from The Difference Card team to help several employers reduce their health insurance renewals, while keeping their employee benefits intact. Beth and her team at Alliant placed a total of fourteen new accounts with the Difference Card to kick off 2023.
One of the non-profit accounts that Beth placed with the Difference Card, deployed the Medical Expense Reimbursement Plan, MERP, strategy to save over $900,000 off their healthcare spend. This client had utilized a standard Health Reimbursement Arrangement, HRA, in prior years. The employer was ready to take their alternative funding strategy to the next level by partnering with the Difference Card in 2023. In addition to the 10% reduction in cost, this organization was also able to improve benefits by funding back to $0 primary care and $0 generic prescription coverage for their over 650 employees enrolled in the health plan.
"My team at Alliant was an early adopter of the Difference Card gap funding strategy. We have placed hundreds of clients with the Difference Card over our 15-year partnership and every client has saved significantly off their health insurance spend. I believe that gap funding is the right strategy for many mid-market accounts who are still overpaying in fully insured premium."

– Beth McLeod
Beth has 20 years of experience in the health benefits industry. She got her start at Aflac, then moved into insurance consulting with The Camps Group. At Alliant, Beth is a Vice President and a proven sales leader within their employee benefits department.  Alliant Employee Benefits is the most progressive broker in the industry. Their unrivaled agility, expertise, and depth of service helps clients rapidly adapt to change and ensure every dollar they spend is driving the outcomes that matter.
To partner with Alliant Employee Benefits and learn more about their unique Difference Card Strategy, connect with Beth on Linked In.
The Difference Card is a multi-year strategy that helps employers in all industries to save an average of 18% off their health insurance costs, while often improving benefits for employees.
Request a proposal HERE.