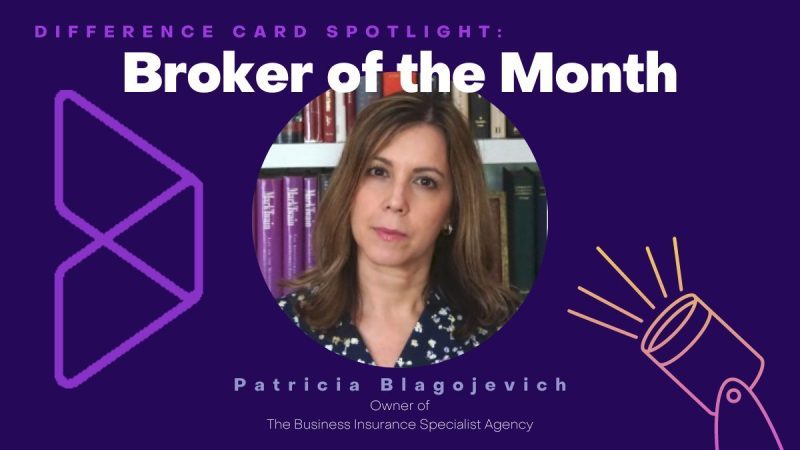 Spotlight of the Month on Difference Card Broker Partner, Patricia Blagojevich
Congratulations to Patricia "Patti" Blagojevich of The Business Insurance Specialist for being recognized as the Difference Card Broker Partner of the Month for September 2023!
Patti is the owner of The Business Insurance Specialist Agency, that is dedicated to helping to find the best solutions for both the employer and the employee. She established her company with the belief that the customers' needs are of the utmost importance, and that is what helps them in renewing and building her agency from referrals to new customers. She particularly enjoys aiding women entrepreneurs develop and grow their businesses by helping to attract quality talent.
She worked closely with Lee Bowers, a Senior Consultant from The Difference Card Mid-West Team, to assist three different manufacturing companies that had three unique Group Medical carriers in three States across the country to provide benefits, networks, and financial savings that made sense for each location. There were over 200 total enrolled employees in the combined organization. Each group was unique and needed help to build a solution that worked for each of their geographies. Utilizing the Difference Card MERP solution, Patti was able to customize plans that produced over $250,000 in savings for these companies.   Additionally, she was able to provide some benefit enhancements for their employee populations, which will help them to attract and retain employees for their respective markets.
Patti started her insurance career back in 2008 and became an expert in helping her clients provide quality Life, Disability, Medical, Dental, and Vision coverage. Whether the employer is fully insured, self-funded, or providing other supplementary insurance to hold down costs, she listens and develops solutions that make sense. Her agency has access to an HR-on-demand portal and has a strategic relationship with one of the oldest and most highly regarded law firms in the country. Her partners at Laner Muchin specialize in labor and employment law to help her clients with legal guidance when needed.   Additionally, she is licensed in multiple States and is a solid advocate with the carriers she represents to ensure the best fit for each organization.
To partner with The Business Insurance Specialist, Inc., contact Patti at 312-659-4146 or at patricia@tbisinc.net.
The Difference Card is a multi-year strategy that helps employers in all industries to save an average of 18% off their health insurance costs, while often improving benefits for employees.
Request a proposal HERE.