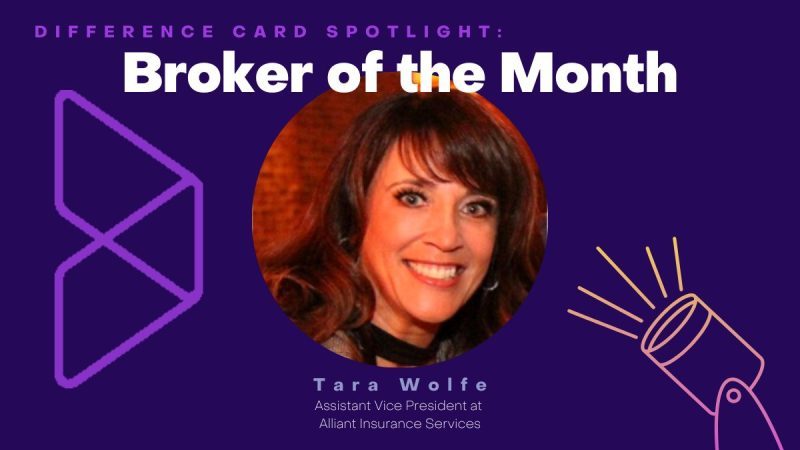 Spotlight of the Month on Difference Card Broker Partner, Tara Wolfe
Congratulations to Tara Wolfe, of Alliant Employee Benefits, for being recognized as the Difference Card Broker Partner of the Month for May 2023!
Tara Wolfe is an Assistant Vice President at Alliant Insurance Services in the New York City, tristate area market. The Difference Card account team and Tara have worked together for the past six plus years. Tara recently collaborated with Cindy Cano, a Senior Account Executive from the Difference Card New York team, on the renewal of a long-term social services customer located in the New York City Area.
This large non-profit account has over two hundred employees and takes great pride in providing their employees with exceptional health benefits. Alliant deployed the Difference Card Medical Expense Reimbursement Plan (MERP) strategy, which reduces the group's fixed healthcare spend by over one million dollars annually. After accounting for the Difference Card reimbursements, the net savings to this organization is $600,000! This non-profit group implemented the Difference Card alternative funding strategy in 2015. Since inception, they have saved close to $5 million dollars. In addition to the -12.5% annual reduction in cost, this organization was also able to improve benefits by funding back to $0 primary care office visit costs to encourage their staff to seek appropriate care immediately without financial burden.
Tara joined Alliant in 2017, and brings to her clients over 20 years of professional experience having worked with several national accounts throughout her career. Tara works closely with a diverse set of group plan sponsors that span several industries including corporate finance, manufacturing, non-profits, hospitality and the construction trades. Tara's skills and experience include managing complex cost reduction strategies, claims reporting and data analytics, and compliance solutions. She also continually explores proactive strategies to assist clients with both day-to-day plan management and long-term cost efficiency.
Tara started at Alliant in an Account Executive role quarterbacking the needs of her clients and was elevated to the Assistant Vice President position. Alliant Employee Benefits is the most progressive broker in the industry. Their unrivaled agility, expertise, and depth of service helps clients rapidly adapt to change and ensure every dollar they spend is driving the outcomes that matter.
To partner with Alliant Employee Benefits and learn more about their unique Difference Card Strategy, connect with her on LinkedIn.
The Difference Card is a multi-year strategy that helps employers in all industries to save an average of 18% off their health insurance costs, while often improving benefits for employees.
Request a proposal HERE.