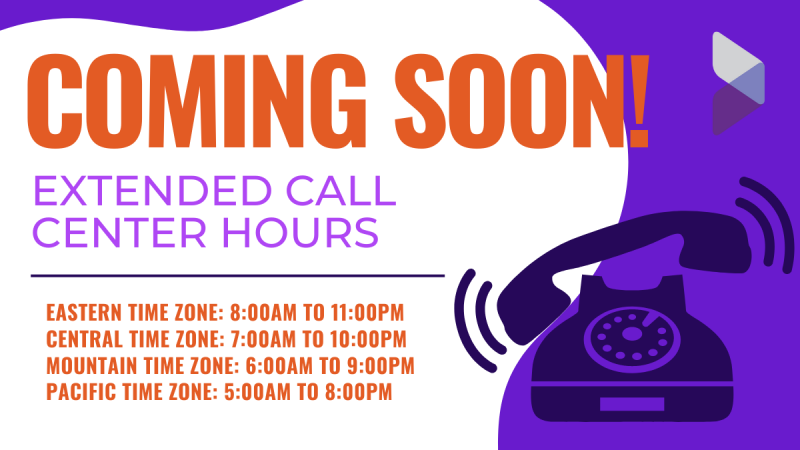 Announcing Extended Hours of Operation for Member Services
Serving our members from 8AM to 8PM from coast to coast!
We are excited to announce that effective May 1, 2023, our Member Services Phone Line will be open from 8AM to 8PM from coast to coast!
This extension adds two hours of additional support for our members.
Healthcare is personal. Often when a member calls, it is because they or someone they love needs help accessing their employee benefits.
We aim to meet members when and where they are – including early mornings or late nights. We want to be there for our members when they need it most.
New Member Service Hours Starting May 1, 2023
Eastern Time Zone: 8:00AM to 11:00PM
Central Time Zone: 7:00AM to 10:00PM
Mountain Time Zone: 6:00AM to 9:00PM
Pacific Time Zone: 5:00AM to 8:00PM
How to reach us
During these extended hours, our phone line and live chat will be available for members to reach our world class Member Service Team.
Our toll-free number is 888-343-2110. To live chat with a team member, you can click the purple chat bubble in the bottom right corner of the website during business hours.
By extending our hours of operation from 8AM – 11PM ET, our members will be able to reach us during a time that best fits their schedule – whether by phone or chat.
We are thrilled to make this change and look forward to serving all of our members soon!
We're Here For You
Our Member Services Team is filled with knowledgeable representatives who can assist you with any questions you may have and will help you gain a better understanding of how your benefits work.
If you need assistance outside of our new extended business hours, we are still here!
You will have access to account balances, the ability to order a new card, and activate your new card 24/7 when calling us after hours or you can download the DC Smart Mobile App.
DOWNLOAD MOBILE APP: