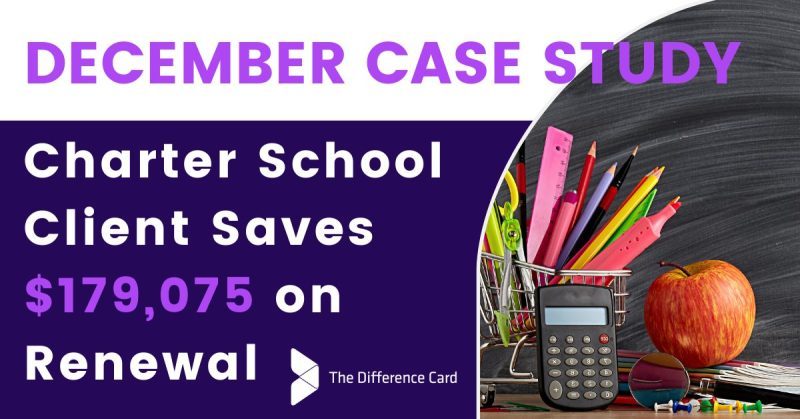 December Case Study: Charter School Client Saves $179,075 on Renewal!
Using our proprietary MERP (Medical Expense Reimbursement Plan) strategy, the Difference Card helped a charter school build the most cost-effective healthcare plan for their December renewal. The client was receiving a 43.5% renewal increase from Highmark BCBS. The firm's Health Insurance Broker engaged The Difference Card to help with a solution to reduce this renewal, while still delivering the same benefits to employees.
View Our Education Case Studies
Our Pittsburgh Team was ultimately able to save this customer $179,075 off their health insurance costs and reduce their 43.5% renewal down to an expected 11.4%.
This company has over 50 employees with 46 enrolled in the Health Plan. Their current benefits strategy included two Platinum PPO Plans.
By moving this company to plans with higher deductibles and out of pocket costs with Highmark, The Difference Card was able to reduce the fixed insurance premiums by more than 40% for this customer.
Our team of Data Analysts and Underwriters reviewed the demographics of the group and came up with a conservative forecast of claims utilization. They built back to two plan offerings as they offered today, with lower overall out of pocket costs for employees.
Many Difference Card customers look for financial protection when taking on the risk of paying claims for their employees. This charter school customer decided to purchase The Difference Guarantee insurance policy, which capped the group's utilization liability and guaranteed the savings to their company versus renewing as is.
"This valuable charter school's Board of Directors, Administration and staff work tirelessly to serve at risk youth to become lifelong learners.  Facing an unaffordable renewal they were looking for a creative option to not pass on the increased costs to their employees.   We are thrilled to help them keep employee contributions  as low as possible while still maintaining a high level benefit for their staff.  We also provided custom materials and assisted with the employee education to ensure a smooth transition to the Difference Card."

– Rachel Wilburn, Senior Consultant at The Difference Card 
The result was $179,075 in net savings for this charter school client, while keeping benefits the same.
The Difference Card helps employers in all industries to save an average of 18% off their health insurance costs, while often improving benefits for employees.
To learn how much The Difference Card can save you, find a consultant in your region or request a proposal today.