February Case Study: Real Estate Investment Firm Saves $154,322 on Renewal & Improves Benefits Using The Difference Card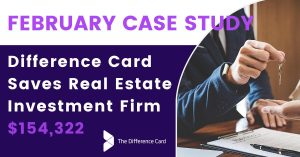 Using our proprietary MERP (Medical Expense Reimbursement Plan) strategy, the Difference Card helped a Real Estate Investment Firm build the most cost-effective healthcare plan for their February renewal. The client was receiving a 21.9% renewal increase from BCBS. The firm's Health Insurance Broker engaged The Difference Card to help with a solution to reduce this renewal IMPROVE benefits to staff.
Our Northeast Team was ultimately able to save this customer $154,321 off their health insurance costs and reduce their 21.9% renewal down to 15.9%.
This company has about 300 employees with 287 enrolled in the Health Plan. Their current benefits strategy included two Silver PPO Plan options.
By moving this company to Bronze Level PPO Plan options, The Difference Card was able to reduce the fixed insurance premiums by almost 24% for this customer.
Our team of Data Analysts and Underwriters reviewed the employee information and came up with a conservative forecast of claims utilization. After benefits were built back to the original dual option benefit plans by using The Difference Card Technology Strategy, the net renewal was 15.9% above current.
The end result was $154,322 in net savings for this Real Estate Investment Firm, while improving benefits.
Like many Difference Card clients, this organization values their employees and the benefits that are offered. When faced with a +30% renewal, we worked together with the broker to find a strategy that helped to lower the overall cost while still maintaining the same level of benefits. During the quoting process, we were also able to reduce the primary care copay to $0 which was a huge plus. Lastly, to help make the process smooth for the employees we were able to integrate with the insurance carrier to eliminate any unnecessary paperwork so many employees fear with this type of concept. Overall, it was a win for both the employer and the employees.

– Emily Coughlin, Senior Consultant at The Difference Card
The Difference Card helps employers in all industries to save an average of 18% off their health insurance costs, while often improving benefits for employees.
To learn how much The Difference Card can save you, find a consultant in your region or request a proposal today.