How Does The Difference Card Work?
A Member's Guide to Understanding The Difference Card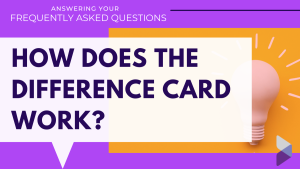 Have you ever felt overwhelmed by the rising costs of healthcare?
It's no secret- healthcare costs have risen dramatically in the United States over the past several decades.
For those with employer-provided healthcare, average annual premiums for family coverage rose 37% from 2015 to 2020.
At The Difference Card, we understand the burden of these costs on employees and families. We are here to help! Our goal is to reduce the amount you pay for healthcare by carrying some of that burden alongside your employer.
The Difference Card works with your employer to create benefits that are made just for you. The Difference Card is a benefit account funded entirely by your employer. We help pay for bills your health insurance company says are your responsibility.
When you go to the doctor you will use your Difference Card to pay for those medical expenses you would normally be responsible for, such as portions of your copays, deductibles, and coinsurance depending on the plan design with your health insurance benefits.
Here's Where The Difference Card Comes In
Your employer is helping you offset the cost of medical expenses typically incurred under your health insurance plan.
For example, if your Insurance Provider says your copay for a doctor visit is $50, you may have a plan design where your employer covers $25 of the expense, and you are only responsible for the other $25.
In this example, you would swipe your Difference Card for the $25 your employer is funding, and you would pay out-of-pocket for the other $25. This could be paid using the FSA or HSA funds loaded onto your Difference Card, or you can choose to pay with a separate card, cash or check.
The beauty of The Difference Card is that the benefits are designed by your employer to fit what is right for YOU and the organization. Some plans may have a $0 member copy responsibility! You will see your specific benefits listed in your Summary of Benefits Chart.
Check your Difference Card Summary of Benefits Chart to see what services your employer is funding. You can find this by logging in to your online account and navigating to the forms section.
How to Read Your Difference Card Summary of Benefits
When you enroll in The Difference Card, you will receive your Summary of Benefits, a document that looks very similar to the one below.
This document breaks down your benefits into how much you pay and how much The Difference Card will pay.
On the right, you will see the total benefit determined by your insurance. In the middle column, this is how much The Difference Card will cover towards your insurance benefit.
Unless stated otherwise, you must meet your portion of deductible and coinsurance expenses before The Difference Card will begin to reimburse you.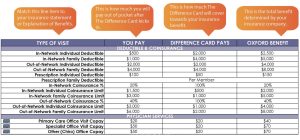 How to Swipe Your Difference Card
Depending on your Difference Card Plan Design, you may be able to swipe your Difference Card at the doctor's office, pharmacy, or Emergency Room to pay for things like copays and prescriptions.
You may also be able to use your Difference Card to utilize your FSA, HSA, HRA or Transit funds. Check your Difference Card Summary of Benefits for details specific to your plan design and the benefits that are swipe-able on your card.
For Services That Cannot be Swiped on Your Card
Some services, like coinsurance and deductibles cannot be swiped on your Difference at the point of services.
After your medical visit, your insurance provider will generate an Explanation of Benefits, or EOB. An EOB explains what was paid by your health insurance and the payment you owe to the medical provider.
If the type of expense listed in your Explanation of Benefits is covered, snap a picture of your EOB and submit it to The Difference Card. We will process your claim and send you a payment or we can pay your provider directly!
We pay 99% of our claims in less than two business days. Need help reading your EOB? Our Member Services Team is standing by to help.
The Difference Card wants to provide YOU better benefits at a better price.
The goal of working with your employer to create a unique plan design is so that you, as an employee, can receive rich benefits – think lower copays and lower deductibles- WITHOUT increasing the amount you have to pay (aka your premium).
We're here for you. Our Member Services Team is filled with knowledgeable representatives who can assist you with any questions you may have and will help you gain a better understanding of how your benefits work.
Call our Member Service Team at: (888) 343-2110 | 8 AM – 9 PM Eastern
If you need assistance outside of regular business hours, we are still here! You will have access to account balances, the ability to order a new card, and activate your new card 24/7 when calling us after hours or you can download the DC Smart Mobile App.