January Case Study: Marketing Firm Improves Benefits while Saving $58,752 Using The Difference Card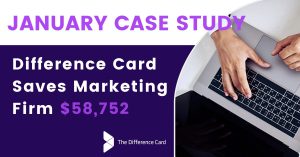 Using our proprietary MERP (Medical Expense Reimbursement Plan) strategy, the Difference Card helped a marketing firm the most cost-effective healthcare plan for their January renewal. The client was receiving a -3% renewal increase from Anthem. This market firm's Health Insurance Broker engaged The Difference Card to help with a solution to reduce this renewal IMPROVE benefits to staff.
Our Midwest Team was ultimately able to save this customer $58,752 off their health insurance costs and reduce their -3% renewal down to -6%.
This company has about 325 employees with 271 enrolled in the Health Plan. Their current benefits strategy included two options: a Gold HMO Plan, and a HMO H.S.A. Plan.
By moving this company to Bronze Level PPO Plan options to enhance coverage, The Difference Card was able to reduce the fixed insurance premiums by almost 20% for this customer.
Our team of Data Analysts and Underwriters reviewed the employee information and came up with a conservative forecast of claims utilization. After benefits were built back to the original dual option benefit plans by using The Difference Card Technology Strategy, the net renewal was -6% above current.
The end result was $58,752 in net savings for this non-profit, while improving benefits & carrier network.
It was a first for me, but I experienced something incredible with a CEO in November. Instead of taking all of the savings that The Difference Card was delivering with our solution, he challenged us to find a way to give it back to his employees in better benefits. Employee satisfaction and retention were his priority just as it is for many employers in this competitive landscape. Who has ever opened their Open Enrollment materials and expected to see better benefits? I have been in this industry a long time and believe me, I have been in some pretty hostile environments where employers were faced with telling employees their rates were going up and their benefits were reducing.  In our industry we don't see these types of plans this company is now offering, but The Difference Card helped to make it happen and I am so proud of the work we do here.

– Jennifer Revell, Senior Sales Consultant
The Difference Card helps employers in all industries to save an average of 18% off their health insurance costs, while often improving benefits for employees.
To learn how much The Difference Card can save you, find a consultant in your region or request a proposal today.