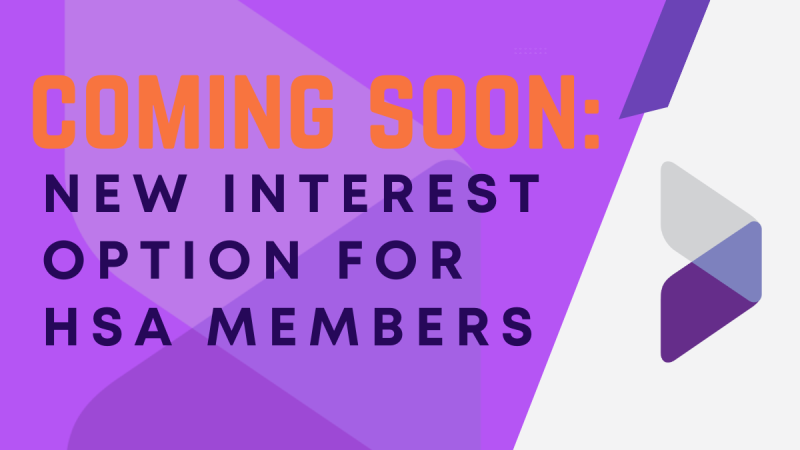 New High-Yield Interest Option for HSA Participants Coming Soon!
Increased Earning Potential with High-Yield HSA
We are excited to launch a new high-yield interest option that enables your employees to optimize the value of their Difference Card HSA!
With this new option, account holders can take advantage of higher interest rates by choosing to have their HSA cash balance held in a high-yield deposit account, backed by Pacific Life Insurance Company.
The Difference Card HSA is a powerful tool to help your employees save money on healthcare expenses, whether they're a spender, saver, or investor*. *This choice only impacts your employees' HSA cash balance and does NOT impact their investment account.
Investments are a great way to maximize the long-term value of an HSA, but employees can also get even more value from their cash balance with a high-yield interest option.
High-yield accounts hold HSA cash funds in a deposit account backed by Pacific Life, allowing your employees to take advantage of higher interest rates while maintaining their ability to spend or invest their funds.
How does it work?
Beginning May 15, 2023, our HSA members can choose the interest option that works best for them: Traditional or High-Yield. Employees can update their preference directly within the mobile app or participant portal. Interest rates for both options are subject to change and can be viewed here: HSA Interest Rate Disclosure
How does high-yield compare to the traditional interest rates?
High-Yield
Offers the potential to earn a higher interest rate on the HSA cash balance.
Funds are not FDIC-insured and are held in a deposit account backed by a highly rated insurance company, Pacific Life.
Traditional (Current Interest Option)
Lower interest rates on the HSA balance.
Funds are held at a depository institution and insured by the FDIC.
About Pacific Life
Pacific Life is an insurance company who provides a wide range of life insurance products, annuities, and mutual funds and offers a variety of investment products and services to individuals and businesses. They are highly trusted for their ability to deliver strong and stable products, with more than half of the 100 largest U.S. companies as their clients.
Is there any impact to the employee experience?
Existing employees with HSAs will remain in the same Traditional interest option they are currently enrolled in unless they change their preference within the mobile app or participant portal to the High-Yield interest option.
For all employees, there will be no impact to their account experience, regardless of which interest option they choose. Those enrolled in the High-Yield option will simply earn higher interest rates.
Help Your Employees Manage Their Healthcare Finances and Prepare for The Future with The Difference Card HSA
Manage The Difference Card HSA program with ease
User-friendly employer portal: Quick and easy access to the information you need, including employee status, debit card status, enrollee lists, contributions, payroll reconciliation, and much more.
Flexible funding: Account contributions can be made in a variety of ways to suit your needs.
Streamlined onboarding: Get your employees up and running smoothly. We can even provide electronic consent for transferring funds from an existing HSA solution.
Deliver a better employee experience
The Difference Card HSA is a lifetime high savings vehicle that engages and delivers value for all employees, regardless of where they are in their healthcare journey: saving, spending, or investing.
Modern and personalized investment experience
Our modern and personalized investment experience helps employees grow their earnings and confidently prepare for the future.
Three investment paths to fit individual needs and experience levels: Managed, Self-Directed, Brokerage
Employees can change paths at any time
Open an account, transfer funds, and make transactions in real time
Employees can manage all aspects of their HSA, including their investments, from the same website
and mobile app
Multi-purse Debit Card offers a convenient way to pay
A single debit card is leveraged for all Health Benefit Account spending
Provides easy, immediate, thought-free access to funds
Automatically pays for eligible expenses from the right account
Next-generation Member Portal and Mobile App
Gives your employees convenient anytime, anywhere access to their HSA
View real-time balances and transactions, submit claims, view important account alerts, access investments, and much more.
Our mobile app helps your employees get the most out of every dollar they spend, including:

Virtual medicine cabinet and pharmacy discount card to save on prescriptions
Find care to search for providers or procedure and drug prices
Funding calculator to help save for the future
Employee engagement tools
Triggered alerts and notifications via text and email keep your employees informed about their account
Educational resources to help employees realize the benefits of an HSA
Have questions about a High-Yield HSA Account with The Difference?
To help answer any questions that you or your employee may have, we have created an Employee FAQ and an Employer FAQ document about the new interest options. As always, you can always contact your dedicated Difference Card Account Executive.
Want to learn more how you can and your employees can experience The Difference Card HSA? Contact The Difference Card today for a custom proposal.