November Case Study: Car Dealership saves $128,043 on Renewal Using The Difference Card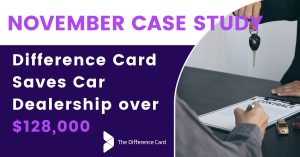 Using our proprietary MERP (Medical Expense Reimbursement Plan) strategy, the Difference Card helped a car dealership build the most cost-effective healthcare plan for their November renewal. The client was receiving a 19.9% renewal increase from United Health Care. This car dealerships Company's Health Insurance Broker engaged The Difference Card to help with a solution to reduce this renewal WITHOUT changing the benefits to staff.
Our Maryland team was ultimately able to save this customer $128,043 off their health insurance costs and reduce their 19.9% renewal down to 2.0%.
This company has about 80 employees with 68 enrolled in the Health Plan. Their current benefits strategy included four options: a Gold POS Plan, two Gold HMO Plans with and a Bronze Value HMO Plan.
By moving this company to Bronze Level PPO / HMO Plan options, The Difference Card was able to reduce the fixed insurance premiums by almost 31 % for this customer. 
Our team of Data Analysts and Underwriters reviewed the employee information and came up with a conservative forecast of claims utilization. After benefits were built back to the original triple option benefit plans by using The Difference Card Technology Strategy, the net renewal was 2%  above current. 
The end result was $128,043 in net savings for this car dealership.
"This well-known company in the Mid-Atlantic is an organization that genuinely has had low renewals for the last three or four years and has not passed on any increases to their employees.   This year was different and with a large double-digit increase, the group had to make some tough decisions and there were not a lot of options available to them.   With the help of a new broker, they were introduced to The Difference Card, and we were able to lower their renewal significantly and provide better benefits than they had before.  With most companies, continuously growing healthcare costs make it increasingly more difficult to maintain a high levels of benefits while also remaining cost effective for employees.  Being in a competitive industry, our new client strives to provide the best benefits possible to retain and attract top talent.   The Difference Card gave them the needed solution to get their healthcare costs under control and keep their employees happy".  

– David Lauritzen, Senior Consultant at The Difference Card
Many Difference Card customers look for financial protection when taking on the risk of paying claims for their employees. This Maryland Car Dealership decided to purchase The Difference Guarantee insurance policy, which capped the group's utilization liability and guaranteed the savings to their company. 
The Difference Card helps employers in all industries to save an average of 18% off their health insurance costs, while often improving benefits for employees.
To learn how much The Difference Card can save you, find a consultant in your region or request a proposal today.