October Case Study: California Defense Manufacturer Has Saved $4 MILLION Using The Difference Card Strategy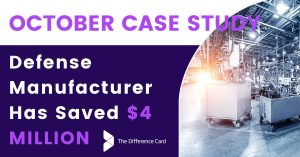 Using our proprietary MERP (Medical Expense Reimbursement Plan) strategy, The Difference Card helped a defense manufacturer achieve cost-savings averaging $1.19M per year since 2018 for their organization for a total of $4,762,574.
Barkley Risk Management & Insurance engaged The Difference Card to help with a solution to reduce their client's group medical expense WITHOUT changing the benefits to the group's employee population.
This employer currently has over 300 employees and growing and their desire was to offer the best possible benefits to help them attract and retain employees in a challenging economic environment.
Barkley Risk Management  worked closely with the client's Senior Management Team to come up with a solution that would help them accomplish that primary objective customizing multiple plan options to assist them in doing exactly that.
 "The Difference Card has helped my client to have input on the copays, deductibles, emergency room copays, urgent care copays, RX copays and out-of-pockets that they wanted – not just the vanilla plans that the insurance companies offer.  With The Difference Card's flexibility, we are also building a new plan option for a brand-new location that will meet the needs of this client, and doing so off the normal renewal cycle. Most carriers would not allow that!"

– Producer at Barkley Risk Management
The Difference Card Representative, Lee Bowers, worked closely with Barkley Risk Management to help design and build their program.
"I like that we work and interact very closely with the Barkley Advisors' team and design plans the employer want, not just what the insurance companies typically provide. That's the fun of doing this type of consultative work and helping the employer to achieve the significant financial savings that we have been able to attain." – Lee Bowers
Many Difference Card customers look for financial protection when taking on the risk of paying claims for their employees. This manufacturer decided to purchase The Difference Guarantee insurance policy initially, which capped the group's utilization liability and guaranteed the savings to their company.
After a few years of feeling comfortable with how we provided them stability in their pricing, the employer removed the insurance protection, and we now provide the administrative services for their organization.
The Difference Card helps employers in all industries to save an average of 18% off their health insurance costs, while often improving benefits for employees.
To learn how much The Difference Card can save you,  find a consultant in your region or request a proposal today.