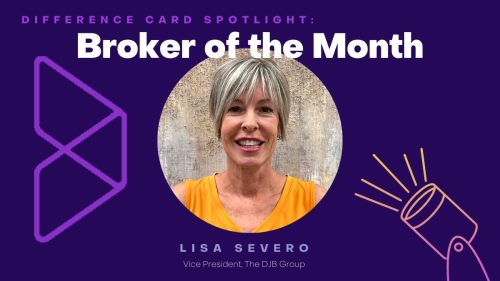 Spotlight of the Month on Difference Card Broker Partner, Lisa J. Severo
Congratulations to Lisa Severo, of The DJB Group, for being recognized as our Broker Partner of the Month for May 2022!
Lisa Severo partnered with Difference Card Senior Consultant, Rachel Wilburn, from The Difference Card Midwest Team, to help an Employer Group with over 400 employees in the Pennsylvania market reduce their health insurance renewal by over $700,000 in the past two years.
While most employers are faced with soaring health insurance rates, this manufacturing organization was able to reduce their healthcare costs significantly upon implementing The Difference Card. This company's employee benefit cost went down by -6% in their first year of the program. In addition to the savings provided, the group was able to deliver better benefits for the employees by lowering their primary care office visit costs to $0 for staff.
"We are thrilled at the savings this group has achieved since it joined The Difference Card- and they continue to see success with the program! Their employees could not believe the $0 copays. Working with The Difference Card is a true game changer for my clients when they want to deliver better benefits without passing on the cost to their employees. I highly recommend working with Rachel and her team at The Difference Card! " – Lisa Severo
Lisa has 24 years of experience in the insurance industry and is currently the Vice President at The DJB Group, an insurance agency in Meadville, PA. She is considered an expert in self-funded health plans and alternative funded MERP strategies.
To partner with Lisa and learn more about her unique Difference Card Strategy, email her at lisa@djbgroup.com.
The Difference Card is a multi-year strategy that helps employers in all industries to save an average of 18% off their health insurance costs, while often improving benefits for employees.