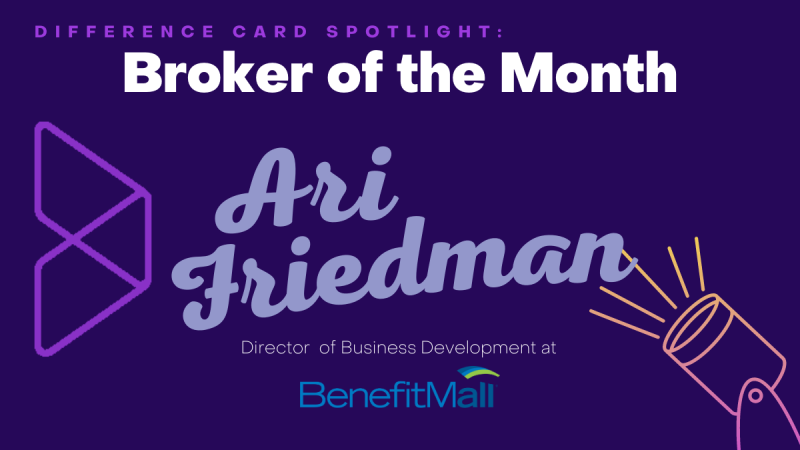 Spotlight of the Month on Difference Card General Agent Partner, Ari Friedman
Congratulations to Ari Friedman, of BenefitMall, for being recognized as our Broker and General Agent Partner of the Month for March 2023!
Ari Friedman is a Director of Business Development at BenefitMall in the New York market. Ari partnered with Emily Coughlin from The Difference Card team to help a 300-life employer group with in the commercial real estate market reduce their healthcare costs by over $600,000.
The Difference Guarantee strategy that Ari designed for this employer reduced their health insurance spend down to -13% below their current cost. The unique solution capped the claim liability for this employer to guarantee at least $450,000 of savings annually. In addition to the savings, the Difference Card strategy helped this company to maintain low copays and minimal deductible levels, which is an essential component of their employee benefits and employee retention strategy.
"In this insurance market, most employers are faced with large rate increases which can be tough to absorb given the economic conditions. By partnering with The Difference Card, we were able to deliver double digit savings to this customer, below their current costs, guaranteed!"

– Ari Friedman
Ari runs the business development team in the Brooklyn, NY office for BenefitMall. He has over 20 years of experience in the health benefits industry and has been in a Director role at BenefitMall for over 15 years. BenefitMall brings next generation service to brokers across the country by empowering brokers with a true general agency experience to ensure the success of their partners.
To partner with Ari and learn more about her unique Difference Card Strategy, and BenefitMall connect with him on LinkedIn:
The Difference Card is a multi-year strategy that helps employers in all industries to save an average of 18% off their health insurance costs, while often improving benefits for employees.
Request a proposal HERE.