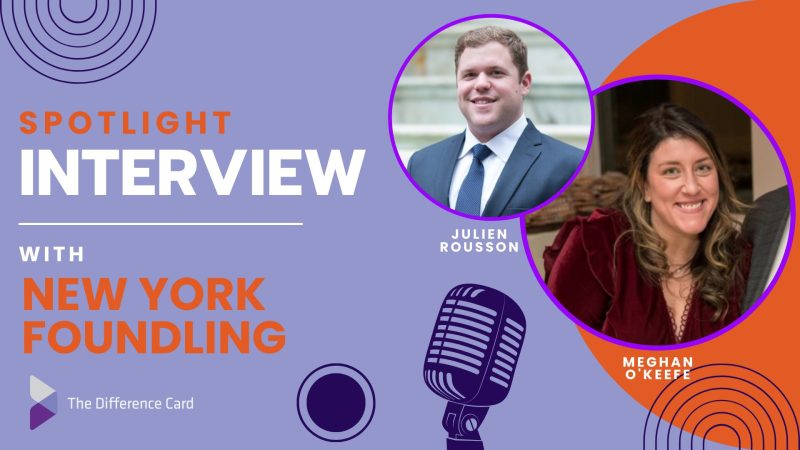 The New York Foundling Finds Long-term Success with The Difference Card Health Insurance Strategy
A New York non-profit sits down with The Difference Card to discuss a decade of healthcare savings.
The New York Foundling is a non-profit social services agency that serves all 5 boroughs in New York. This organization provides carefully designed programs, effective and interrelated services, and opportunities for community members to create transformational change in their own lives.
Discover More Non-Profit Case Studies
Taylor Britt of The Difference Card, sat down with Meghan O'Keefe from The New York Foundling and their health insurance broker, Julien Rousson, from Medical Link to discuss their success in using The Difference Card Strategy as a way to keep health insurance cost low while providing the best possible benefits for their employees.
Hello, Meghan! So great to speak with you today. Tell us about yourself and your role within The New York Foundling.
Meghan O'Keefe: I am one of our Assistant Vice Presidents here within our HR department at The Foundling. I oversee employee relations and our benefits program for the agency. I've been with The NY Foundling for almost 9 years. In terms of my history here at The Foundling, I started off as an assistant and have moved my way up, so I've been involved in benefits at a lot of different levels from the processing end, but also from the employee end.
Tell us a little bit about The New York Foundling and the work you guys do in your community.
Meghan: Yeah, absolutely. The New York Foundling is a Nonprofit Social Services Agency, and we service all five boroughs of New York City, Rockland County, Westchester County, and Orange County. We also have a head start program and presence down in Puerto Rico.
We offer a variety of services in the community, all designed to provide opportunities for children, families, and adults. We offer social services including foster care, preventive and juvenile justice programs, educational support, medical services, and overall mental health and support for families and children.
Your broker, Julien Rousson with Medical Link, is here with us today. Julien, tell us about Medical Link and why you like to partner with The Difference Card.
Julien Rousson: I'm a Senior Benefits Consultant with Medical Link. Medical Link is a benefits broker, and we work with our clients to develop benefit programs to control costs and provide rich benefits to employees. I've been with Medical Link for about eight years, and I've been working with The Foundling directly for the majority of that. As a whole, Medical Link has worked with The Foundling for over 15 years and The Foundling has worked with The Difference Card for a large portion of that.
The Difference Card provides us with the ability to control costs and lower the cost of the health plans while also providing rich benefits to The Foundling employees. For nonprofits, and all companies, that's an important thing to be able to achieve as an employee benefits consultant.
The Difference Card has been a really successful program. Coupled with the wellness aspect of The Healthy Difference Program and encourages and incentivizes employees to make healthier life decisions. Which not only helps employees, but also helps with controlling claims costs and managing the overall cost of the program. So, I think the program has been successful in all of those ways.
The Foundling has been using The Difference Card as a solution since 2010. What do you attribute to the long-term success of this partnership for the last 13 years?
Meghan: I would say the overall benefits that it provides to our employees. They're really front facing for our employees and our employees appreciate the $0 copay.
As Julian referenced, our Healthy Difference Wellness program also works to keep our staff engaged and healthy. They have to get their physical, they have to engage in these Wellness activities. So overall it's helping the employees with their benefits and wellness activities are keeping them engaged throughout the year.
Julien: Yeah, I agree with everything you said, Meghan. I think the big thing is engagement. It gets employees engaged and active and thinking about their health and benefits. Obviously, healthcare across the country is increasing in costs all the time, so it is important for people to have some skin in the game, so to speak, and be thinking about these types of things. So, I think it has been good from a cultural and employee perspective to have everyone engaged.
And from the employer side, it's been very successful in helping to control the cost of a program while still being able to offer rich benefits to employees. Oftentimes companies will just cut benefits to employees but not do anything on the other end to help out the employee and relieve some of that burden.
So, it really provides the perfect balance of those two things of controlling the cost for the employer while also still maintaining rich benefits for the employees.
The last piece of it, too, is the member service perspective. The Difference Card has always provided very strong service from both the employee customer service perspective as well as the group customer service perspective. I've found they are far superior to most of the other vendors in the industry.
We've got Cindy Cano, your Difference Card Account Executive with us today. Cindy, tell us about why The New York Foundling is such an important client to you.
Cindy: The New York Foundling is such a wonderful organization. It's amazing to see the impact they have on their community. Knowing that we're able to provide these employees that are doing such selfless work with better benefits while helping them save on out-of-pocket costs is such a gratifying feeling.
The New York Foundling hosts a gala every year and I've been fortunate enough to attend the last three. It's impactful to see what a difference the organization makes and to see how passionate everyone is about their work. Additionally, it's nice to see the end benefit of The Difference Card strategy. We're looking at it from an insurance perspective, but once you see the trickledown effect for these employees, you can really appreciate the product and the benefit it has for their staff.
The New York Foundling has saved over $500,000 a year with The Difference Card over the last 13 years. What does that mean to an organization like The Foundling?
Meghan: Yeah, obviously we're a nonprofit. So, having that savings is important! We can use that money to give back to our staff and for use in other ways like building out our wellness program or giving cash flow back to our finance department to invest in other opportunities for our staff. Really just asking ourselves "What can we give back from what we've saved?"
Cindy: It feels great to help a client achieve great savings, but it means more when it's a group like New York Foundling! Obviously, The New York Foundling does a lot of amazing work in the community, and they have a lot of great employees that they treat very well. So, to be able to take some of those savings and make benefits more affordable and richer to the employees is great. Every dollar that they're saving is money that can be reinvested into helping the community, allowing them to do even more amazing work. It's a nice feeling to be able to help with that!
You were also able to improve benefits for your employees. You decided to create a $0 primary copay benefit. Tell us about why generous employee benefits, such as the $0 copay, are important to an organization like The New York Foundling.
Julien:  So not only are we saving some money, but we're also improving benefits for employees and giving them a $0 primary copay benefit. By making the primary care copay free, it really removes that burden of going to the doctor and makes it easier and more cost effective for people to go to the doctor when they need to. This removes the barrier where patients avoid going to the doctor because they're afraid it's going to be too expensive. You really want to encourage that primary care relationship and ultimately encourage as many well visits as possible to limit claims costs.
Earlier I alluded to The Healthy Difference Wellness program, and you know one of the main aspects of the wellness program is to get your annual physical, which is a key part in preventing major issues down the line. If everyone's getting their annual physicals, the idea is that if someone is ill, you're going to catch that earlier on and it is going to provide a better outcome for the patients as well as ultimately lowering that claim cost down the line.
Meghan: I agree that fostering that positive relationship with the primary care doctor is important. If you have that relationship with your primary care physician, you're going to feel more comfortable going and knowing that you're not paying anything out of pocket for your copay is only going to enhance the want or need to go to the doctor.
We try to use the $0 copay as a retention and recruiting tool. We try to use the benefit as much as we can for any type of interaction with staff. We're constantly reminding staff of The Difference Card benefits and one of them being the $0 copay for your primary care. We are always encouraging staff to use The Difference Card, to participate in the program, and to get their regular well visits.
In the long run, it's going to help them in their health long term, which would also ultimately save them some costs long term. Like Julien said, if they're going more regularly, you'll find something earlier on in the process, which might then avoid having to go to those larger specialty visits or something like that is going to cost the employees more out of pocket.
Cindy: The New York Foundling has a very, very rich benefit plan, which is actually what makes them such great employers- one of the many things that makes them great. We wish we could see more employers do that, but it's not that common. A $0 copay is not used that frequently, unfortunately but we think it would a long way in improving the health of the employees and their experience with their health plan.
You also use The Difference Card to administer a Flexible Spending Account for your employees. Talk to us about the ease of having all their employee benefits on one card.
Meghan: I can speak from the employee perspective in the sense of feedback we've gotten from staff. They have said that since they contribute to their FSA directly from their paycheck, they don't have to think about where it's coming from. They know that The Foundling is covering their percentage and then the rest of it is covered through their FSA.  Employees don't really have track anything, it's a one stop shop. You log in, you can see your FSA account and the balance, and all the different claims. So, from an employee perspective, it really an easy route for them!
Julien: "Yeah, exactly. And just to reiterate – for most people it's very confusing to keep track of multiple health insurance accounts like your base plan and an FSA. You hear about it in open enrollment once a year, but then you probably don't remember much about it after that. So, to have everything on one smart card is a game changer. The card knows where to pull funds from which makes it a lot easier for employees to manage their healthcare expenses. Employees don't need to keep track of multiple cards or the logistics of using the card. Overall, it makes administration a lot easier for employers and employees.
Cindy: There is excitement in having everything contained on one card. Like Julian said, it makes it easier from the employee perspective. It's easier for employees to track and be able to see what their funds are and to understand what they use them for. Because we've been partnering for so long, we have been able to establish open communication with HR throughout the year and the open enrollment process has become very streamlined and easy. I think that's also one of the advantages of having such a long partnership. I think this is the dream team when it comes to facilitating employees and providing great service, all the pieces just come together. By now, the employees are very familiar with The Difference Card and are very engaged with their health benefits.
As mentioned before, The NY Foundling decided to offer a wellness incentive through The Difference Card's Healthy Difference Wellness plan. Tell us about the success of the different incentives, such as your walking challenge.
Meghan: We've done two walking challenges over the years. We've done the typical track your steps challenge across departments and divisions. But we recently rolled at walking club at each of our regional sites. We outlined a path at each of our sites, and everyone can go at a time that works best for them.
I think it really helps staff to have an hour to get away, get outside, get some fresh air, and get their steps in. But, it also helps our staff with interpersonal relationships at work by encouraging them to meet people outside of their department or outside their division- people they might not have met or spent that much time with otherwise. I think forming those partnerships across divisions within the agency through the walking challenges and getting to know people really speaks to what the foundling is about. We are one big family! Plus, The Difference Card makes it so easy for our team by keeping track of everything for them.
Finally, would you recommend The Difference Card as an employee benefits solution for other non-profit organizations?
Meghan: As Julian and I have both shared, it makes employees' lives a lot easier. They know they have this program they participate in, and they get great benefits. But also, from the employer's perspective we have the cost savings advantage and all the other benefits that come along with The Difference Card. So, I would absolutely recommend it to another nonprofit organization.
Julien: Yeah, absolutely. We work with a lot of other non-profits as well as for-profit businesses that use The Difference Card and it's good for both.
I think it's particularly good for non-profits because it's important for them to provide rich benefits to their employees. And with costs increasing, it has become increasingly hard to do that. So, The Difference cCrd is a really good solution to be able to continue offering those types of benefits to the employees.
I also think The Difference Card is really good at boosting engagement with employees and encouraging employees to make use of their well check visits and live a healthy lifestyle. A big part of our job is looking at the financial aspect and controlling the claims costs. So, it really benefits every one of those aspects and is a very good solution for both nonprofits and for-profit businesses.
Interested in learning more about The Difference Card?
Request a proposal today to see a benefit analysis for your client or company.