7 Ways HR Professionals Can Thrive During 2022 Open Enrollment  
Innovation during Open Enrollment can help employers set themselves apart.
The Covid-19 pandemic has forced us all to change and adapt. 
Before March 2020, Open Enrollment meant in-person benefit fairs with pretty tables, flyers, and giveaways. 
But the Covid-19 pandemic and social distancing requirements has put a halt to traditional Open Enrollment sessions and pointed out the problems in an already flawed system. 
Issues that can plague Open Enrollment meetings include absent spouses unable to attend meetings at their partner's workplace, a disconnect in the language of what is being discussed, lack of healthcare and health insurance fluency, and technology issues with remote employees.
Additionally, HR Professionals scrambled to launch, explain, and share information. They follow-up tirelessly on the 20 percent of employees who refuse to read or understand why Open Enrollment is important. In short, the traditional Open Enrollment process isn't working.
This year, as we enter the fourth quarter, most organizations will host a virtual open enrollment season and HR professionals and brokers are smartly adapting to the needs of our environment. 
Virtual is becoming the preferred method for employers to conduct Open Enrollment meetings. 
Now is the time for HR professionals and business leaders to make positive lasting changes in their Open Enrollment Process.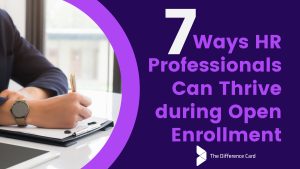 Here are 7 Ways HR professionals can drive innovation and thrive during the 2022 Open Enrollment Season:
1. Create quickly digestible, Instagram-style Open Enrollment communications

Create bite-sized, image-based blasts of information that can be easily emailed or posted in company communication channels like Slack or Teams. Free tools like Canva can be used to create professional, social media worthy images. Keep it concise and all communications at a 5th grade reading level.

Use video. Video can distill complex written information in a much easier to understand format. Free tools like Loom can be great. The Difference Card uses video platform, OneMob. 

2. Focus on ALL of the benefits during Open Enrollment meetings

Insurance Carriers can provide more than negotiated rates and networks. Additional benefits usually include mental health benefits, Telehealth, discounted lab services, and fitness and gym benefits. Make sure to discuss those WITH the health network and benefit information. 

Introduce Financial Wellness Tools that merge Health and Wealth, creating incentives for your employees. 

3. Transition to Virtual, Online Open Enrollment meetings

Virtual Open Enrollment Meetings allow everyone to attend- including spouses and partners. With virtual meetings, everyone will be able to hear the information presented and they can be closed caption which is more inclusive for those with disabilities. 

At the end of the meeting, make sure employees have an accessible web link they can review where all benefit information is stored. 

4. Enlist the help of a concierge service
Organizations like 

Touch Care

 can provide concierge support for employees and a next level open enrollment experience, providing benefit consultations and personalized walk throughs one-on-one with employees.

5. Enroll exclusively online
Paper enrollment is a thing of the past. If you don't have an enrollment solution, ask your broker. Most have a solution or can recommend a partner.

6. Protect yourself as a benefit administrator

 

Don't get caught neglecting your plan documents. Send the Benefit Summaries and Summary Plan Documents. Fines for missing a plan document requirement can be $100 a day per participant. If you need help producing a plan document, most administrators like The Difference Card will help clients prepare plan documents for free. Administrators are typically happy to help employers that are not a client. 

7. Design a multi-year benefit strategy that can last

Employers can create rich benefit plan designs that reduce employee out-of-pocket costs while saving money on health insurance. Through adoption of The Difference Card solution, and a strategic review of the benefits, employers can reduce premiums and improve benefits for employees. The Difference Card can even guarantee those savings with The Difference Guarantee Solution. 

Interested in learning more about The Difference Card? Find a consultant in your region or request a proposal today.
---
Author: