Fully Insured vs. Self-Funded Health Plans for Employers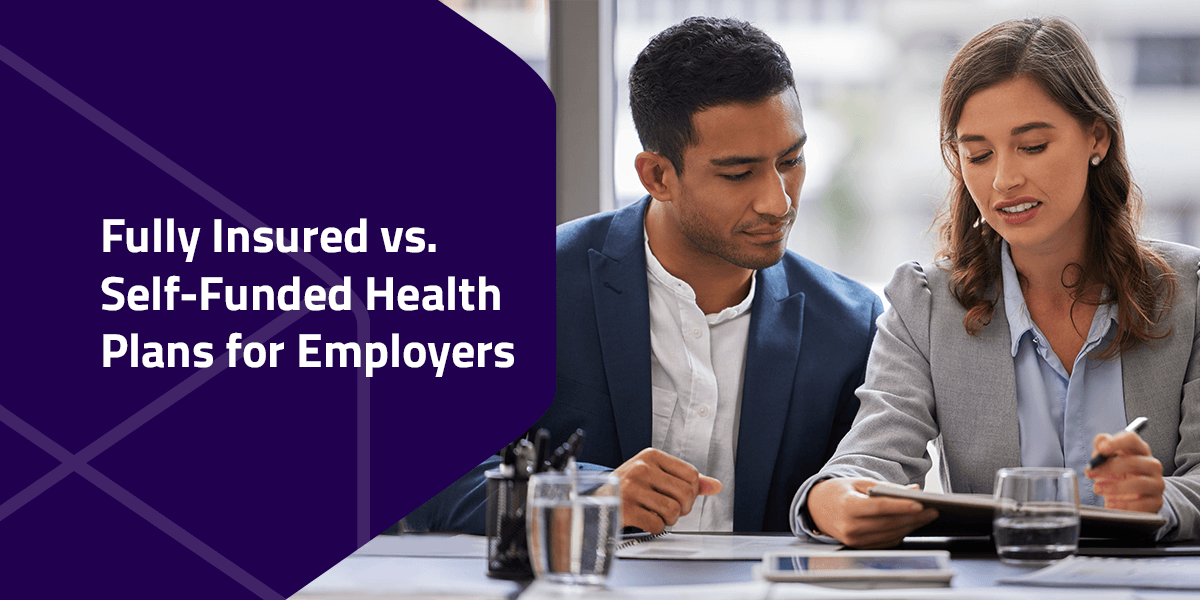 Employers can choose between fully-insured and self-insured health plans when deciding on a health insurance option. Both can help employers meet their employees' healthcare needs but have two distinct structures, one of which may work better than the other.
Choosing the right health plan can help reduce plan costs and mitigate risk. We'll outline these two health plans and how to pick the best employee benefits for your business and employees.
What Is a Fully-Insured Health Plan?
A fully-insured health plan is the conventional approach. The employer pays the insurance company a fixed premium for the number of employees enrolled in the plan. The company then pays for any medical claims. These plans can be somewhat rigid and inflexible for the employer's needs.
While the insurance company takes on all the risk, it also keeps any surplus available after paying the claims. These plans are often more expensive than self-funded plans and may come with higher taxes, increased margin paid to the carrier and more intense government regulations. However, since the employer doesn't take the liability for health claims, it can be less risky.
Pros of Fully-Insured Health Plans
Like all health plans, a fully-insured plan has its pros and cons. Some of the benefits of fully-insured plans include:
Predictability: These plans have regular payments, making budgeting for them easy. Plan costs will stay the same regardless of how much the employees claim.
Less administration requirements: Since the insurance provider manages the plan, the employer has fewer administration demands to worry about.
Lower financial risk: The employer's costs don't increase if claims exceed expected amounts. Even catastrophic events won't create undue expenses for them.
Cons of Fully-Insured Health Plans
Meanwhile, the disadvantages of fully-insured health plans include the following:
High recurring costs: A fully-insured plan is typically more expensive than a self-insured plan.
Higher taxes and state regulations: Government regulations and taxes could increase the costs and challenges associated with these plans.
Potential for rate hikes and difficult negotiations with carriers: Insurance companies can be hard to work with and may increase rates over time.
Rigidity: A fully-insured plan is more limiting and may not accommodate the company's and employees' needs.
Limited refunds: The insurance company will not provide refunds for any claims surplus specific to that individual employer's performance.
What Is a Self-Funded Health Plan?
The employer pays out the claims in a self-insured or self-funded health plan. An insurance company or a third-party administrator (TPA) typically manages the claims and the plan, but the employer is ultimately in control. They can create more flexible plans to fit the employees' needs better and reduce the cost of premiums. Employers can also use self-insured plans to share expenses with members.
However, this option does involve more financial risk for the employer. The employer is on the hook for the expenses if claims cost more than expected. Costs can also vary widely from month to month, making it more challenging to budget for them. These plans also have administrative requirements since the employer controls them, but TPAs can minimize these demands.
Many providers will add stop-loss insurance to a self-insured plan. Stop-loss insurance protects the employer when claims exceed a specific amount. Specific coverage applies to catastrophic claims for a single employee, while aggregate coverage applies to a group of covered employees. Both can help counteract the financial risks of a self-insured plan.
Pros of Self-Funded Health Plans
The advantages of a self-funded plan include the following:
Potential cost savings: If members are generally healthy, employers may pay out fewer claims and spend far less on insurance plans. Employers may also benefit from lower taxes and more effective plans that increase profit margins.
Cost sharing: These plans allow employers to put cost savings toward improved cost-sharing benefits for employees and dependent members.
Flexibility: Self-insured plans give employers full control over their structure, letting them select the best plans for their members.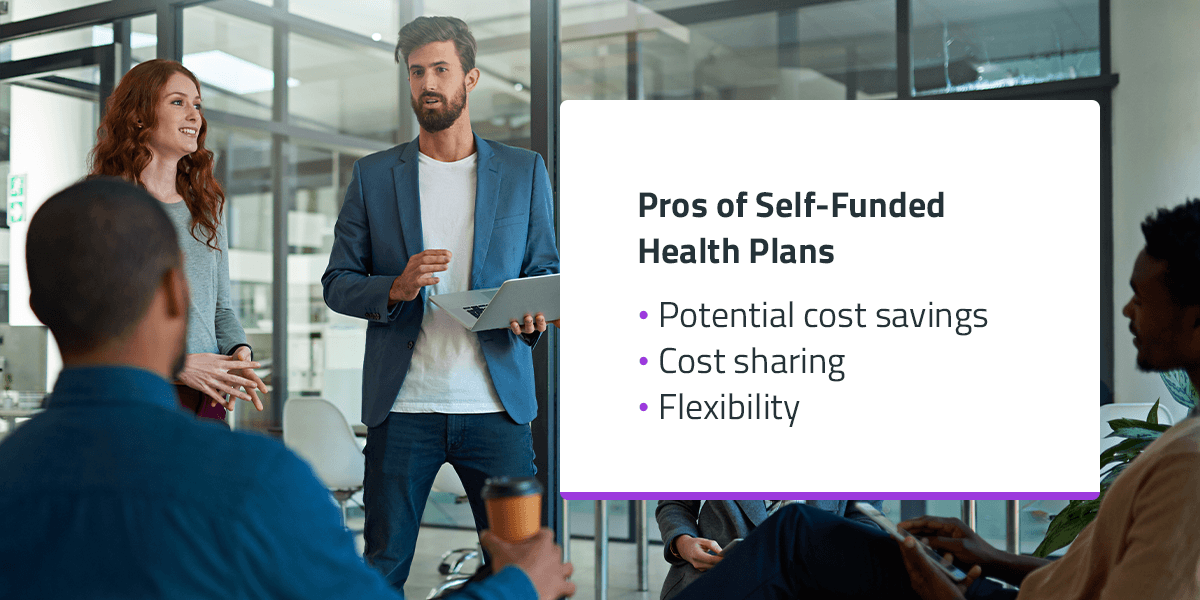 Cons of Self-Funded Health Plans
The cons include:
Financial risk and variation: Without stop-loss insurance, self-insured plans have the potential to significantly increase spending for numerous or costly claims.
Potential administrative requirements: While TPAs and other organizations can help, the employer must administer a self-insured plan.
Employers often use health reimbursement arrangements (HRAs) or medical expense reimbursement plans (MERPs) to improve the employee experience of self-insured plans. With an HRA, the employer can create a tax-free monthly allowance for employees to put toward eligible out-of-pocket expenses.
Which Option Is Right for Your Organization?
Health insurance doesn't have one-size-fits-all options, so the choice between self-funded versus fully insured health plans will look different for every business. As you make this decision, consider factors like:
Plan utilization: If members are relatively healthy, a self-funded health insurance plan might be more cost-effective due to fewer claims. However, if you expect more claims, you may need stop-loss insurance, a MERP or a fully insured plan for more profitability.
Consistency: Would you prefer your costs to be higher but consistent or potentially lower but less predictable? A fully insured plan offers the most predictability if your budget doesn't have much wiggle room, while a self-insured plan could offer more savings.
Administration capabilities: Some businesses have plenty of resources to spend on administration, but many employers would rather leave those complex tasks to another entity. Consider what your business can accommodate and whether a TPA or insurance company would need to manage the plan.
Flexibility demands: Think about what kind of variation and customization you need in your plans. If you'd like more flexibility, a self-funded option is typically better.
Again, health insurance can get complicated. If you're still on the fence or don't feel like you fully understand your options, speak with an expert.
See How The Difference Card Can Help
If you're interested in purchasing health insurance in a more cost-effective way, try The Difference Card. We've been reducing health costs and maximizing benefits for over 20 years. Our MERP solution can act as a bridge to self-funding, designed to make affordable healthcare more accessible to small to mid-sized businesses. Employers often think of a Medical Expense Reimbursement Plan as an alternative to self-funding, but our MERP solution consistently saves clients an average of almost 20% on health insurance costs.
Learn more about our suite of products online, or reach out today to request your proposal for a custom health benefit plan!