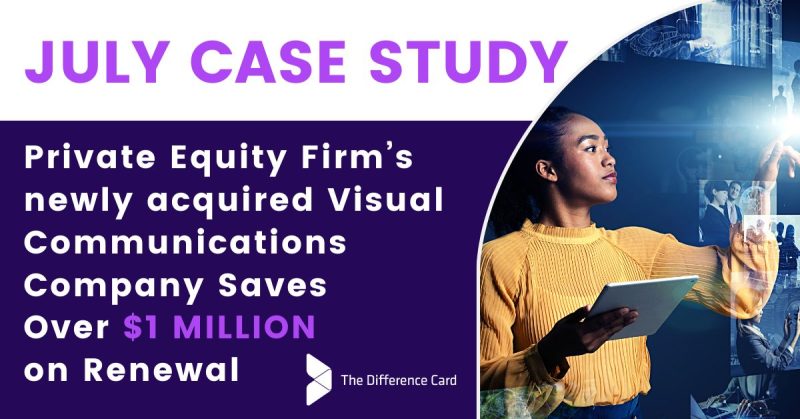 July Case Study: Private Equity Firm's newly acquired Visual Communications Company Saves Over $1,000,000 Using The Difference Card!
Using our proprietary MERP (Medical Expense Reimbursement Plan) strategy, the Difference Card helped a Visual Communications Company create the most cost-effective healthcare after being acquired by an international Private Equity Firm. The Private Equity Firm was going to pay over $8M to align benefits with Blue Cross. Instead, the Health Insurance Consultant engaged The Difference Card to help with a solution to control costs for the Private Equity Firm and the employer.
Our Midwest Team was ultimately able to save this customer which has 520 participants on one plan over $1,000,000 off their health insurance costs.
By using a very creative solution for this client, we were able to drive down fixed cost while delivering better benefits for the members on the plan.
Many Difference Card customers look for financial protection when taking on the risk of paying claims for their employees. This Private Equity Firm decided to purchase The Difference Guarantee insurance policy, which capped the client's utilization liability and guaranteed savings of almost $850,000 over buying traditional benefits.
Savings and easy-to-understand benefits were key for this employer because of their diverse workforce. We were not only able to save this client over a million dollars, but we were able to create a plan design that the employees are excited about and will be easy to utilize.  This employer is in a very competitive industry, so both attracting new talent as well as retaining current employees is critical to their success. We are so proud to be a part of the strategy to deliver a one-of-a-kind benefit plan that also meets the financial goals and member experience of the parties involved.

– Jennifer Revell, Senior Sales Consultant II
The Difference Card helps employers in all industries to save an average of 18% off their health insurance costs, while often improving benefits for employees.
To learn how much The Difference Card can save you, find a consultant in your region or request a proposal today.